We may receive commissions when you buy through the links on our site. Full Disclaimer.
If you cook while camping, you have to live with several limitations. 
The biggest hurdles you will face are weight and space. Of course, you do not want to pack the entire items in the household to the campsite. So here, you have to focus on the most important things. 
You also won't have forever to cook because of the gas tank's limited capacity. Well, saving gas is also saving money. 
This article gives you a few tips to save space and time when cooking in the camping kitchen. 
Here are our 6 camp kitchen tips for effective cooking while camping:
1. Get an Actual Camping Kitchen to Stay Organised
Besides having the perfect camp stove, utensils, and other important cooking items, the best way to have an effective camping kitchen is to buy an actual camp kitchen or table. 
A great camp kitchen will help you stay flawlessly organized, making your cooking less tasking and quite swift.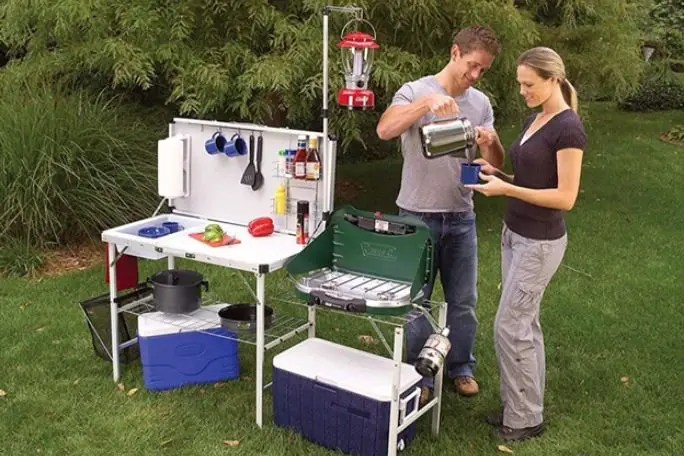 This amazing gear provides you with spaces to put your camp stove and prepare your meals. And in most cases, you also get ample spaces to store your utensils and ingredients.
Some even come with a washbasin to wash the dirty dishes.
And it doesn't have to add much weight to your already heavy packing list. Read: 8 Best Camping Kitchens to Stay Flawlessly Organized to help you choose the perfect one for you.
2. Pre-Cook and Preserve at Home
Planning your camping trips in advance means you'll have less work to do later. 
When it comes to eating, you can also prepare a few things at home.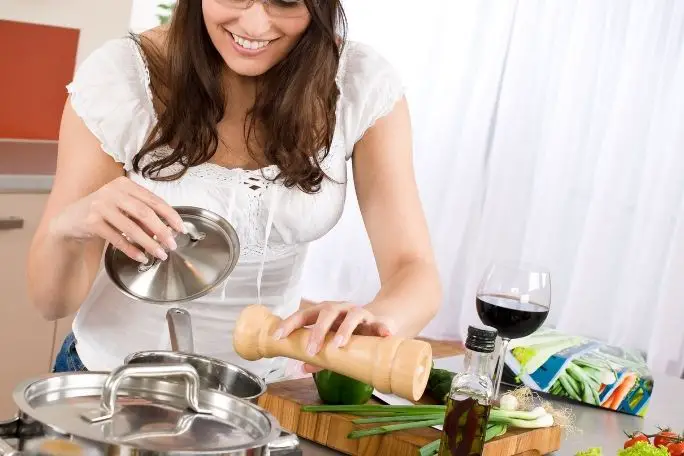 Some dishes, for example, can ideally be pre-cooked and preserved in glasses. So they last a long time and don't need to be refrigerated. When camping, you can open the glass and warm it up with the camping stove.
Although this may not save space, however, it will save a lot of cooking time. Giving you enough time to go about other activities.
Pasta sauces and soups, in particular, are ideal for pre-cooking. A Bolognese takes a few hours to be really good. That can be very tedious in the camping kitchen. It takes a lot of time to freshly cook the sauce, which costs a lot of gas. The gas is then emptied quickly, especially with the small gas tank used for camping stoves.
So if you still have space left over for a few homemade canned food, pre-cooking saves a lot of time and gas. It also tastes really good.
3. Use Spice Blends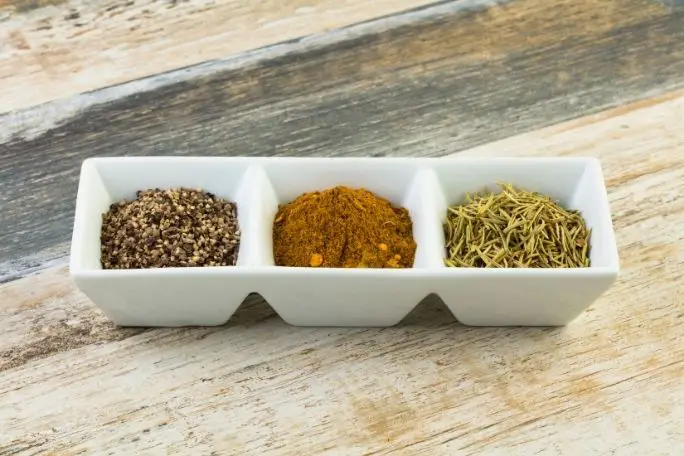 For many, salt and pepper are enough when camping. These are still easy to transport and already enhances many dishes. 
But if you cook with many spices, you should prepare your own spice blends at home. Often you only need a pinch of spice and then still have to take the whole container with you. With many spices, a lot is going on.
But if you are thinking about which dishes you want to eat while camping, you can prepare your own spice blends. 
Certain herbal mixtures or meat marinades are particularly suitable here. 
This saves space, and you don't have to do without your variety of spices and taste.
4. Thin Pasta Cooks Faster.
When cooking the thick kinds of pasta, it can take 15-20 minutes before they are finally ready.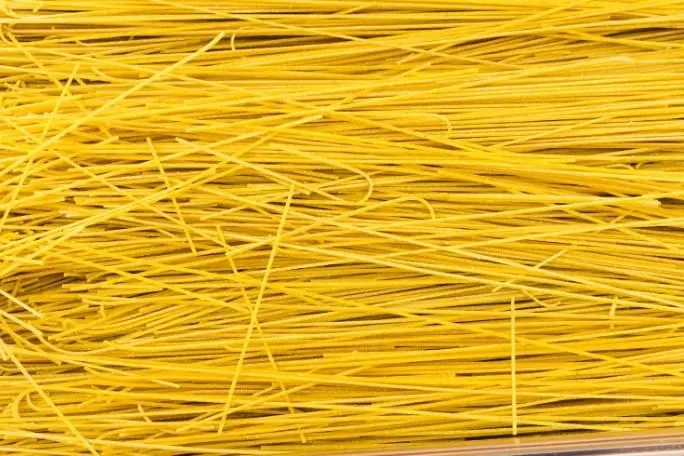 However, you can save a lot of time here if you use thin pasta like spaghetti. This is because thin pasta takes less time to cook. Spaghetti takes between 5 and 7 minutes. This is a good 15 minutes with tortellini, but thicker pasta such as tagliatelle also requires twice the cooking time than thinner spaghetti. 
If you make your own pasta, you will also save a few minutes here because the homemade pasta only takes 3-5 minutes to prep.
Noodles must be placed directly in the boiling water. It can also take a few minutes for the water to boil. Therefore, never add salt to the water beforehand. The salt will delay the time it takes for the water to boil.
Only when the water is boiling, time and thus gas can be saved with thin pasta and salts. This can make all the difference, especially during longer trips, if you can save more gas.
5. Pack More Dry Supplies For Longer Trips
If you are camping for a longer period, we advise that you pack more dry food supplies.
Pasta and rice can last for a long time and are therefore ideal for cooking in the camping kitchen. 
But not only pasta and rice can be stored dry. Meat, vegetables, and fruit can also be bought dry and therefore last much longer than if you buy them fresh.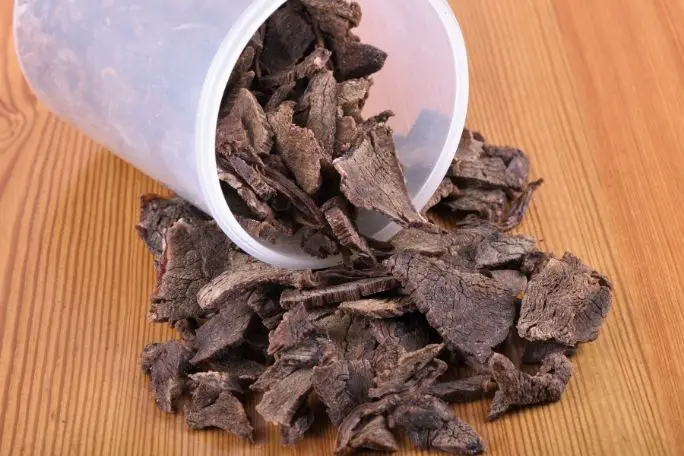 Dried tomatoes, for example, are easy to store and still have a good aroma. Bananas, apples, and many other fruits can also be bought dry and made into a delicious dessert.
Fruit and vegetables can also be dried easily at home. So if you stay for long, dry food offers a great variety for cooking in the camping kitchen.
6. Go for Multi-Functional Items
In the kitchen, you need a lot of utensils for cooking. Whether stoves, peelers, ladles, knives, spoons, pots, pans, or whatever else you need. A lot comes together quickly. But if you go on a camping trip, you don't want to take too much with you.
Combinations are possible here. Special camping crockery is designed to save space on the one hand and tries to combine many functions on the other. For example, instead of getting an ordinary camp stove, you can go for a camping stove and grill combo.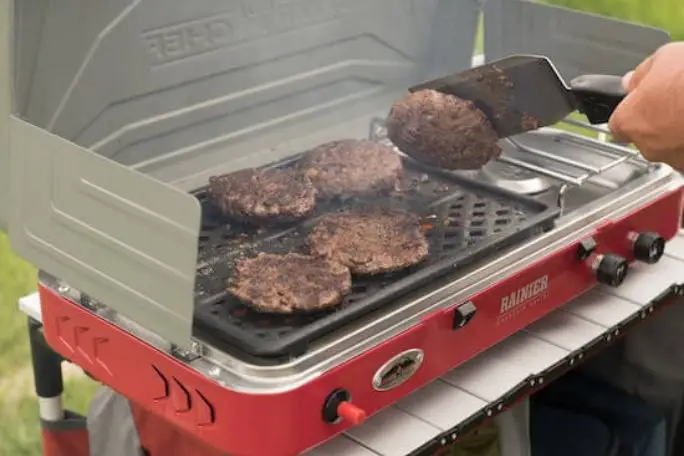 So before you take many different individual items with you, you should look around for special sets. These are made of extra-light materials and already conspired so that they can be transported to save space.
Conclusion
We hope these camp kitchen tips help you get the best out of your camping cooking activities.