We may receive commissions when you buy through the links on our site. Full Disclaimer.
Welcome to our ultimate guide for the best camping stove grill combo of 2021.
Of course, a camping stove and grill combo will help you conserve space by canceling the need to pack an extra grill.
But there are so many camping stove and grill combos in the market, yet only a handful of them is worth putting your money on. 
And buying the wrong one might ruin your experience in the outdoors.  
Imagine you arrived at the campground, set up your brand new cooking toy, and then after a couple of excellent meals, the cooking gear got damaged, leaving you with no further ability to cook during the adventure. 
Not pretty, right? 
Well, luckily, you won't have to go through that experience because we have selected and reviewed 10 of the best ones.
But before getting into that discussion, here are some things you should consider before buying a camping stove grill combo.
Also Read: The Best Camping Stove for Boiling Water
Criteria for Choosing the Best Camping Stove and Grill Combo 
Fuel type:

 Camp stoves use different fuel types. The most popular ones are propane, butane, and gasoline.

Heat capacity: 

Should you go for a product with a high BTU or one with a lower one? The answer will depend on the volume of meals you will be cooking and how often.

Weight and portability:

 Are you car camping? How much weight can you lift?
We'll dive deeper into these and more in the buying guide section of the post, but let's look at the list for now.
Product Name
Coleman Camp Propane Grill/Stove+
Stansport 206-50 Propane Stove and Grill Combo
Outland Portable Camping Stove
Royal Gourmet Gas Grill and Griddle Combo
Preview
Product Name
Coleman Camp Propane Grill/Stove+
Preview
Product Name
Stansport 206-50 Propane Stove and Grill Combo
Preview
Product Name
Outland Portable Camping Stove
Preview
Preview
Top 10 Best Outdoor Grill and Stove Combo 2021
1.  Coleman 2 Burner Grill Stove Combo
The Coleman 2 Burner Grill Stove Combo is unique with its appearance. Do not mistake it for a CD or cassette player because it does look like one.
It is a grill and a stove, and both are separated, making it possible to use both at the same time.
It has wind block panels on the sides that make sure the burners do not get affected by wind.
You can adjust the temperature to your preference, it has a heat output of 20,000 BTUs, and the PerfectHeat technology minimizes the amount of fuel that is exhausted.
At about 11  pounds, this is a lightweight stove and grill combo. Unfortunately, there is no carry bag or handle include, so you may have to get one.
PROS
Adjustable burners
Wind block panels
Consumes less fuel
Compact size
CONS
Lacks auto-ignition feature.
2. Coleman Camp Propane Grill/Stove+
Also from the Coleman brand, we have this Grill/Stove + as number three on this list. The grill and stove operate independently, and each has adjustable burners.
With just a push of an ignition button, you get this unit powered on and ready for use, and there are wind block side panels that shield the cooking area from wind.
Less fuel is consumed without affecting the heat quality thanks to the PerfectHeat technology. Be sure to lay some aluminum foil underneath the grill for easy cleaning.
The size is compact, it weighs close to 15 lbs and will be perfect for car camping. You'll also like to know it doesn't take much space.
PROS
Adjustable burners
Easy to start
Wind block panels
PerfectHeat Technology
3. Coleman FyreMajor 3-in-1 Propane Stove
You get a very portable unit when you buy the Coleman FyreMajor 3-in-1 Propane Stove. With a cooking area measuring 200 square inches, there are 2 hyper flame burners which are ideal for efficient cooking, and these burners are adjustable.
The burners are protected from the wind by the wind block pan, and they both give out a total of 22,000 BTU of heat.
There is a built-in handle so it can be easily carried though it is a bit heavy with an 18-pound weight.
PROS
Adjustable burners
Wind block
High heat output
4. Camp Chef Rainier Camper Combo
This Camp Chef Rainer Camper Combo is packed with a lot of features that put it ahead of its competition.
It is a 10,000 BTUs burner and an 8,000 BTU Grill unit with an aluminum-coated non-stick grill and griddle. 
It is easy to start as it features a stainless ignition, and there is a drip tray made with stainless steel to help keeps things clean. You'd like to know that the griddle is also removable.
The weight may not be the nicest as it measures 16 pounds, but carrying will be not be all that difficult as the Rainier camper combo comes with a carry bag that contains it.
PROS
High heat output
Sturdy construction
Easy to start
5. Blackstone Grills Tailgater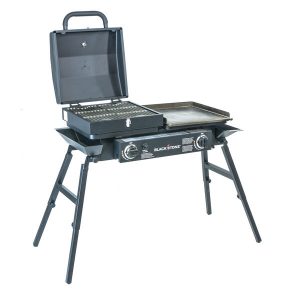 The Blackstone Grills Tailgater functions as a grill and as a griddle, it is a lovely combo with four adjustable legs that keep it stable while it stands. Made from cast iron and with a powder coating finish, you would find this unit very durable and long-lasting.
It has two burners with 15,000 BTUs and 20,000 BTUs heat capacity respectively, and the burners are operated independently. If you need a heavy-duty camp grill combo, this is a good option, and it is quite heavy; weighing 75 pounds.
PROS
Durable construction
High heat output
Double burners
Portable
6. Stansport 206-50 Propane Stove and Grill Combo
The Stansport Propane Stove and Grill Combo have many similarities to the Rainier Camper Combo by Camp Chef, which we reviewed above.
But it yet comes with its unique features.
While you only get a single stove burner, there is a whopping 13 inches by 10 inches grilling surface at your service.
It lights up fast thanks to the Piezo igniter. The heat adjuster in this unit performs amazingly better than most.
The combo is packed with a total of 18,000 BTU of heat output, and 10,000 of that is for the stove burner while the rest is for the grill.
Like the Rainer Camp Combo, this unit features a drip tray for easy cleaning. But one thing that separates them is that Stansport 206-50 does not come with a griddle.
It weighs about 14.2 pounds and is made to be sturdy.
PROS
Easy to clean
It ignites fast.
Sturdy
7. Camp Chef Big Gas Grill
The third Camp Chef entry on this list is the Big Gas Grill; huge I must say. It's cooking surface area is a whooping 608 square inches, and it has a height of 31 inches.
The Big Gas Grill has 3-cast aluminum burners which altogether has a massive heat output of 90,000 BTU.
It comes with a hose and regulator, so all you need to provide is just the tank.
This unit will be perfect if you need a large stove and grill combo.
PROS
High heat output
Versatile
Triple burners
Easy to start
8. Camp Chef Tahoe Deluxe 3 Burner Grill
\
Right now, it seems to be all about the big boys, and this grill happens to be one. With 3-cast aluminum burners, you get an outstanding 90,000 BTU of heat; each burner has 30,000 BTUs.
It comes ready to be used with a regulator and a 3 ft hose, it is easy to ignite, and you can fully control the heat through the control dials.
Though it is a big unit, its removable legs help make it a portable one.
PROS
High BTUs
Sturdy Construction
Triple burners
9. Royal Gourmet Portable Propane Gas Grill and Griddle Combo
If an additional 100 pounds of weight isn't too overboard for your camping list, then this is totally worth it.
It's a pretty large unit with four stainless steel burners and a total cooking area of over 580 square inches. Each of the burners emits 12000 BTUs of heat, so you have a total of 48,000 BTUs.
The gas grill and griddle combo also feature an electric ignition, so it needs just a button push to start.
It is a versatile unit as you can prepare different eats at the same time. You have the grill on one side and the griddle on the other ( the super chefs will love this one). And the side table offers you that much-needed space.
It also has wheels, making it easy to transport despite its huge size.
PROS
Versatile
High heat output
Additional Space
Portable with wheels
Easy to start
10. Outland Portable Camping Stove – 3 Zone Propane Gas Burner Controller with Auto Ignition
Last but not least is the Outland Portable camping stove with a 568 square inch cooking area.
This unit features three burners that are independently controlled. Each burner have a 30,000 BTUs heat output so in total you get 90,000 BTUs.
The two foldable cook prep stations it offers can save you money on a camping table. Together, both can hold a weight of up to 120 lbs.
It comes with a 3 ft hose and a regulator and thanks to the foldable legs, wheels, and a pull handle, transporting this unit is easy.
PROS
High heat output
Well constructed
Portable
Buying Guide – Camping Stove and Grill Combo
Here are some factors you want to consider before settling for any of the items above.
Fuel Type: As mentioned above, camp stoves manufacturers implement different types of fuel. Each of these options has its advantages and otherwise. But the best among them is propane. And that's because it's very cost-effective, readily available, and relatively safe to use. So, we have featured only the propane stoves in the above list.
If you want to learn more about camp stove fuel types, read this post. 
Heat Capacity: You should compare the heat capacity of the combo to your needs. The stove must be powerful enough to ensure the meals get done quicker if you have a large group. So you should go for one with a high BTU, But if it's just your family, then a lower BTU stove will do.
Number of burners: More burners give you the ability to cook more meals simultaneously. The joy of a chef! That usually means more weight anyway. The least burner on the least is two, while the highest is four. 
Weight and portability: Be sure you have enough space to you have enough room to fit your new stove in your packing list. And also, go for something you can carry and move about alone if you are solo camping. 
Space: If you have a camping kitchen/tabletop, you want to ensure the stove area matches your stove's size. And if you don't own a kitchen table, you may want to consider getting a floor-standing camp stove grill combo instead of a tabletop type.
Durability: Of course, you want to buy a unit that you can use for as many camping seasons as possible. The type of materials used is 
Griddle: If you like scrambled eggs, pancakes, etc., you may want a unit that also combines a griddle. Fortunately, many on the above list come with one. And even for those that don't, you can just buy a fitting one off amazon.
Cost: These will cost more than an ordinary camp stove, so be ready to pay a bit more. However, your budget will have the most significant influence on your decision eventually. But be sure not to sacrifice quality for the price. The cheapest on our list is the Coleman Camp Propane Grill/Stove+ while the Outland Portable Camping Stove is the most expensive.
Final Words
Reading through the above list, you should be able to pick at least one product that meets your interest and proceed to purchase it.
But we think the Outland Portable Camping Stove is the most awesome on the list. It offers some really interesting features like high BTU, a large cooking area, and two foldable meal prep surfaces. It is also built to last, so you can use this for many seasons to come. And yes,  it is easy to move around despite its big size.  You can check the product out on Amazon if you are interested in buying it.
If you are on a tight budget, then you can go for the Coleman Camp Propane Grill/Stove+; because as you can see, it offers a significant number of amazing features despite selling at a low price. By the way, it is has been selling for years and has received 100s of positive reviews on Amazon. Click here to check it out if you are interested in it.