We may receive commissions when you buy through the links on our site. Full Disclaimer.
Are you looking to buy a portable hot water shower for your camping trip? If yes, I'm sure you're finding it tough to select one out of the thousands of products available.
Nevertheless, be rest assured that you've landed on the right page. In this article, I'll be showing you the best portable hot water showers for camping.
We'll also be looking at the most critical features to consider, propane shower heaters' safety tips, among other necessary issues. But first, let me introduce you to our top picks.
Below are the best portable hot water showers for camping:
Hike Crew Portable Propane Water Heater & Shower Pump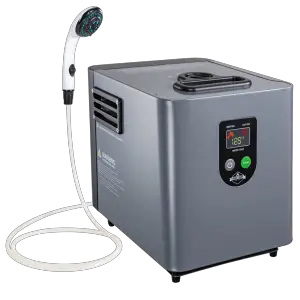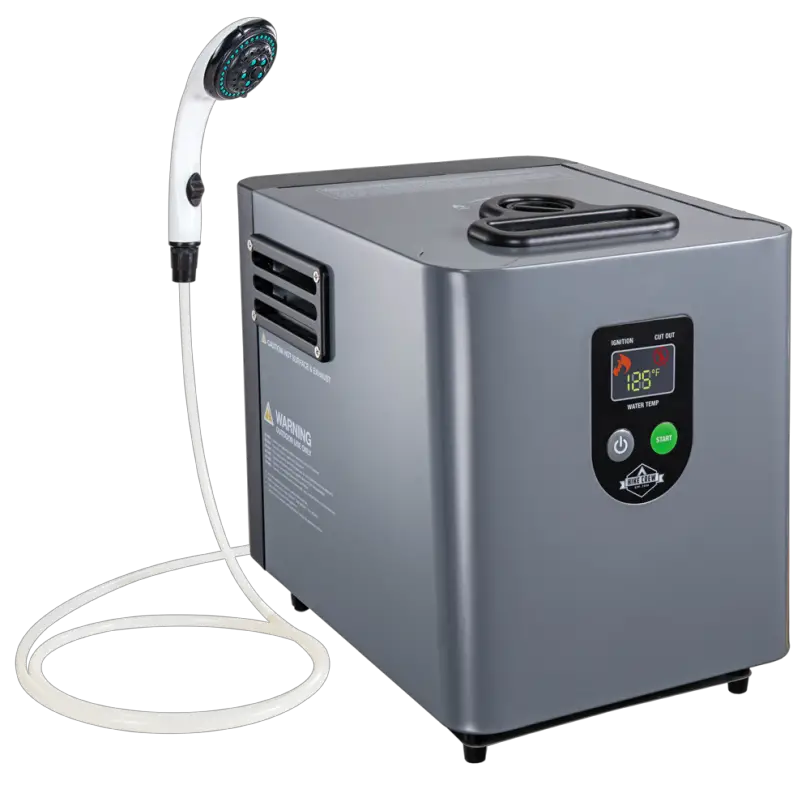 Image Credit: Hike Crew
This portable propane shower with a pump is so on point. You'll relish it if safety is as essential to you as performance.
The Hike Crew Portable Water Heater & Shower Pump has a variety of features. Including the Gas Control, Water Inlet, Gas Regulator, Faucet Flow Control, and Exhaust, to name a few.
You can easily adjust the temperature of the water with simple heat controls. The water heater will automatically shut off at 130°F to avoid accidents. This is why we recommended it for safety.
You can monitor everything from the sleek LCD panel. Most of the safety features are displayed on this panel. The showerhead attachment is easy to use, and it has three unique spray patterns. On each side of the unit are exhaust panels that expel hot air.
You have multiple power options with this Hike Crew propane heater. It works with propane gas and has an A/C adapter slot. If you need convenience, this product provides that too. It comes with a carry case big enough to house the whole kit.
PROS
Simple heat controls
Safety shut-off
Carry case
Multiple spray patterns
LCD panel
CONS
Plastic connector is difficult to attach
Might shut-off at lower degrees for safety
Camplux Pro 1.58 GPM Tankless Propane Water Heater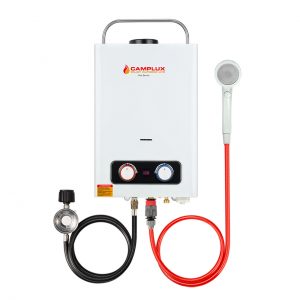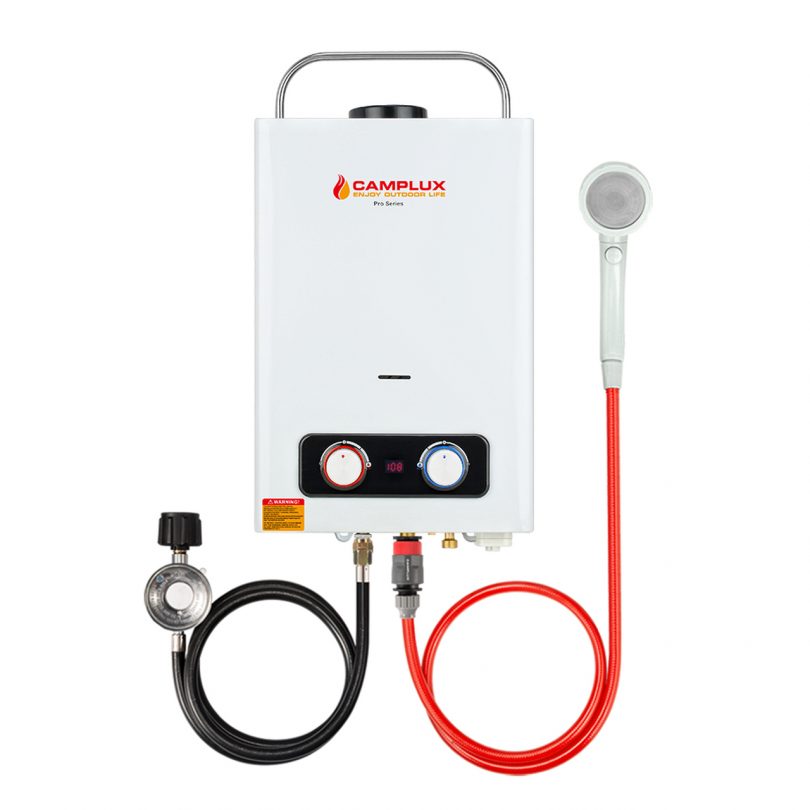 Image Credit: Camplux
No electricity? No problem, this Camplux Pro product will ignite fine with 2 D cell batteries.
It is one of the most portable hot water showers you can find on the market at the moment. It weighs just 16 lbs and features a compact design, including a foldable handle.
It's perfect for off-grid and regular road trips.
This propane water heater has a maximum power output of 41,000 BTU per hour. Giving you 1.58 gallons of hot water per minute. That's a lot of power for a unit that saves so much energy.
You're sure of safety with this product as it meets CSA Safety Testing Standard. It features overheat protection, flame failure protection, dry combustion protection, anti-frozen protection, high water pressure protection, and low water flow protection.
The stainless steel burner and tinning copper heat exchanger ensure high-efficiency combustion.
When not in the wild, you can still use your Camplux Pro 1.58 GPM Tankless Propane Water Heater indoors. It comes with an oxygen depletion sensor protection and turns off automatically to keep you safe.
And finally, it is still seamless to install and use.
PROS
Multiple protection sensors
Highly portable
High-efficiency combustion
Energy saving
Indoor use
CONS
Not reliable in high windy conditions
Not reliable for elevation above 2,000 feet
Mr. Heater BOSS-XB13 Battery Operated Shower System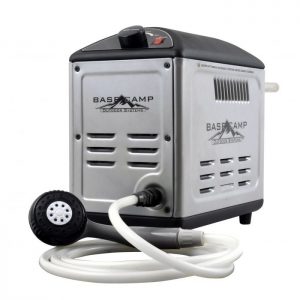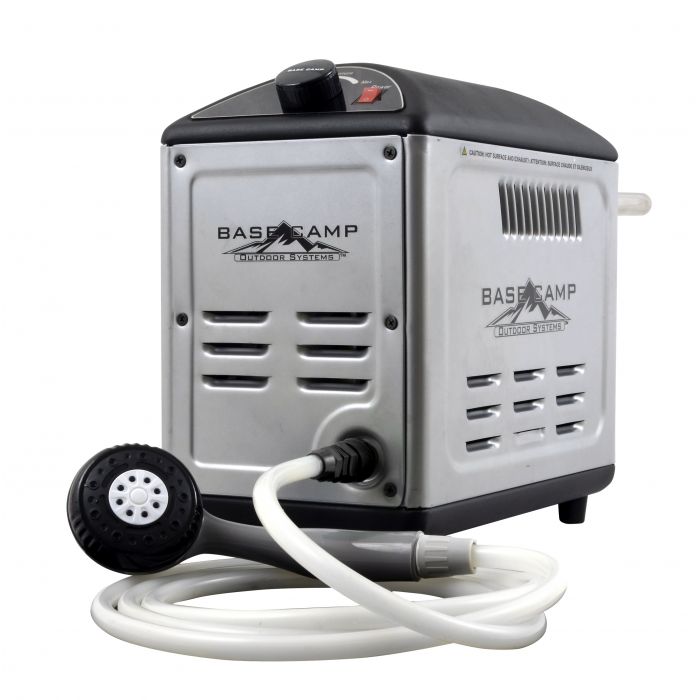 Image Credit: Mr Heater
This is one of the most affordable portable propane showers with pumps you can get. Most other products cost above $200 but this cost about $50 lesser. And yet, you still get great good value for your money.
This shower system is battery-operated. It features a matchless ignition and produces instant hot water. You'll need 6 D-cell batteries, which you have to buy separately.
The igniter uses two batteries, while the pump uses four. It also works with a propane cylinder.
The water temperature can be increased to 35 degrees with 12,000 BTUs. It can be increased to 42 degrees with 18,000 BTUs.
The Mr. Heater BOSS-XB13 Battery Operated Shower System is UL/CSA Certified. It comes with a safety tip-over shut-off switch and anti-clad protection.
You also get an AC wall charger and filter system for the pump to prevent debris. The showerhead & pump included is adjustable. You don't have to break the bank to get a good camping hot water shower if you opt for this.
PROS
Affordable
Filter system
Safety features
Battery operated
Adjustable pump
CONS
No replacement parts from the manufacturer
Not reliable for a large volume of water
Gasland Outdoor BE158 1.58GPM 6L Portable Gas Water Heater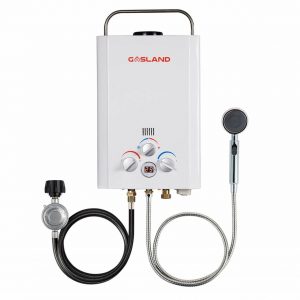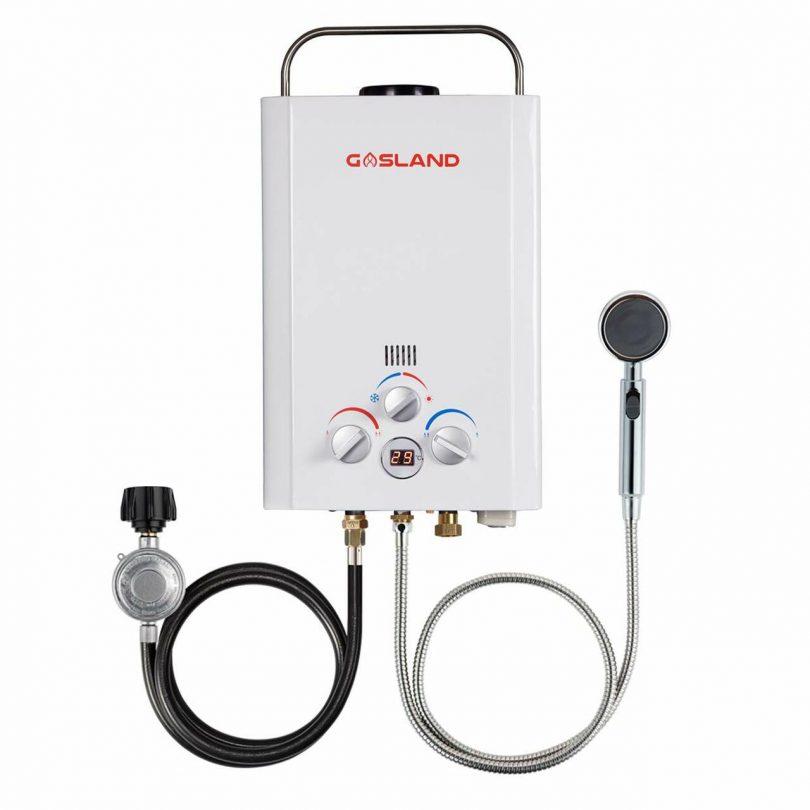 Image Credit: Gasland Chef
Gasland Outdoors is a professional tankless water heater manufacturer. This product is among their best camping hot shower solutions. And also CSA approved.
The anti-freezing protection, overheating protection, and flame failure device all keep you safe. You will consume less power with this heater as it saves energy – helping you save money.
It uses advanced combustion technology to save 11.5% energy and also reduce noise. You should go for this Gasland Outdoor BE158 1.58GPM 6L Portable Gas Water Heater if you prefer a quiet operating unit.
The heater outputs 41,000 BTU per hour at the max. You can easily adjust the heat and water flow.
The excellent customer service from the manufacturer is noteworthy. You can reach them if you have any troubles using the product.
It's lightweight and has a compact size – making it easy to transport.
And finally, there are mounting brackets at the top and back for easy installation.
PROS
Lightweight and compact
Safety protections
Energy saving
Less noise
Good customer service
CONS
It won't work above 3300 elevations
Getting the right temperature can be difficult
Marey GA5PORT Portable Propane Gas Tankless Water Heater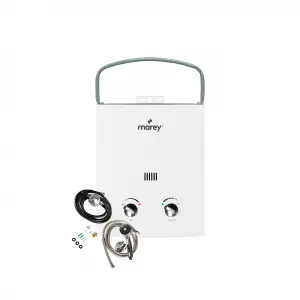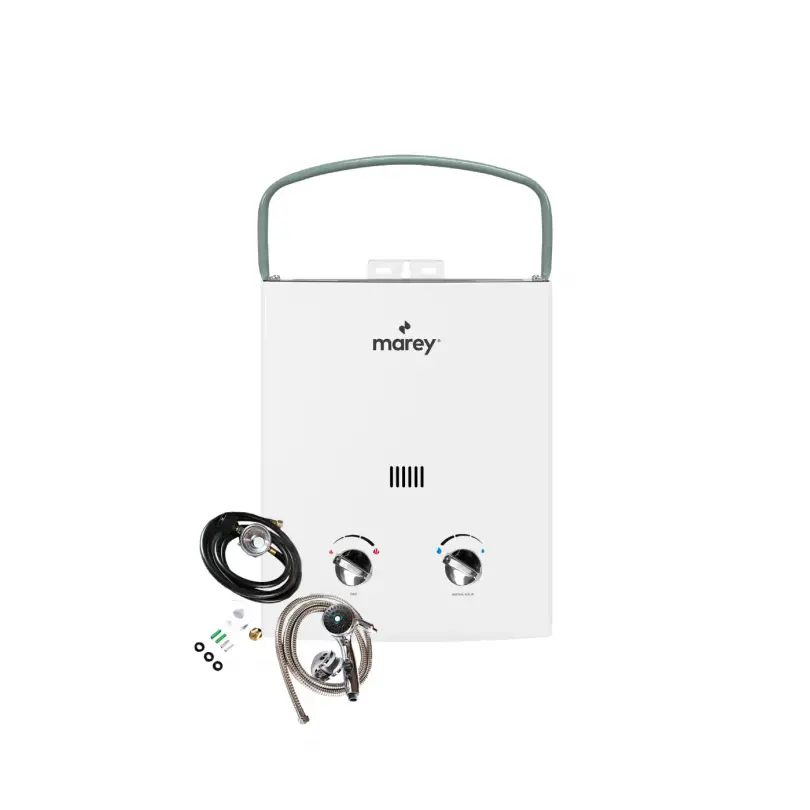 Image Credit: Marey
The last portable propane shower with pump here is from Marey. Marey produces different versions of tankless water heaters for different climates. If you opt for this product, you have to choose a model based on where you'll use it to get the best fit.
This tankless water heater is ideal for camping due to its efficiency. It uses around half the gas that a standard water heater would use. This allows you to save up to 85% on energy, and the unit doesn't need electricity. It is powered by 2-D battery cells, but you have to buy those separately.
You get 2 gallons per minute with an output of 35,000 BTU per hour. The water heater comes with a hose regulator and is very versatile. You can attach a garden hose or hand shower using the kit. The unit is the lightest on this list at 12 lbs. So, it's relatively the most portable.
A significant advantage of the Marey GA5PORT Portable Propane Gas Tankless Water Heater is that it's a snack to install and use. You'll hardly need help from anyone. And you even get a 5-year warranty.
PROS
Very lightweight
Easy to use
Variant models
Energy saving
Warranty
CONS
For outdoors only
No on/off switch
Best Portable Hot Water Shower for Camping Buying Guide
You now know the best portable hot water shower for camping. But how do you know which one to pick? As you can see from the list, camping showers come in many types. Choosing the best one can be a task. First of all, why settle for propane heaters?
Why Choose Propane Gas?
The heating capacity and power source of any water heater or shower are vital.
Camping showers can use electricity, battery, solar power, or gas.
An electric water heater is useless if you are heading to a remote location without electricity. The same is true with solar water heaters. Gas heater showers use flammable gas, most commonly propane. Propane heaters are best since it's easier to source gas when on a camping trip.
Also, the gas heats water faster than solar-powered ones. The only disadvantage is that these showers require a propane tank which might take up some extra space. You can use the propane tank for other purposes like cooking. Anyway, it's almost unlikely to go on a camping trip without a propane tank.
Battery-powered showers are the best alternative to propane gas. Most propane showers also need batteries for the pump, as you can see from the list. All products on the list are propane heaters, so you can go for any that meets your interest.
Important Features To Consider
Here are some essential features to consider to choose the best portable propane shower for you.
1. Design
The design of a hot water shower is the first thing to notice. These products feature different designs, shapes, and sizes. Your needs will determine what design to opt for. Your camping destination is also important.
For example, if your destination has hot water and a water container like a bucket or tub, you only need a powerful shower pump. Showers with containers or even water bags are required if you also need a water container.
The design also influences the performance capacity. This includes the nozzle end's capacity, water flow rate, and pressure, among others.
Furthermore, always check the shower's mechanism, such as turning it on and off.
The Marey water heater, for example, works automatically and has no on/off-key. A good design will make the product a lot easier to use. The Hike Crew Portable Water Heater & Shower Pump is a well-designed option to go for.
2. Portability
The initial goal of every camper is to be as light as possible. So, when traveling, you won't want an oversized hot water shower, even if it's the best there is. Carrying a water heater that isn't reliable but lightweight is also pointless. Although propane water heaters require more room, they are the most efficient and powerful.
You can transport them easily if you have a car. Tankless showers are relatively the most portable. This is why the Marey Portable Propane Gas Tankless Water Heater is recommended for portability.
3. Setup
Easy installation is not a feature to skip when purchasing the best portable hot water shower for camping. While camping outdoors, you don't want to spend hours preparing a shower. Conversely, you need something you can use easily.
Fortunately, most of the portable hot water showers available are easy to use. The Gasland Tankless Water Heater is a good option in this regard. It's easy to install, and there's excellent customer support if you ever need help. Not to mention the heater produces less noise.
4. Price
Your budget will, of course, have a massive impact on your decision. The price of propane heaters ranges from a few dollars to several hundred dollars. Size, power supply, and heating capacity all influence price. If your purpose of purchasing a portable propane shower with a pump is solely for camping, you'll want to consider a low-cost option.
This doesn't mean you should opt for a low-quality product because it's cheap. You still need a strong water shower that'll last. If you're on a low budget, the Mr. Heater Battery Operated Shower System is the best affordable option for you.
5. Safety
Accidents could occur with your propane heater. This is why it's essential to also check out the safety features a unit comes with. These features also make the shower easy to use. For example, a temperature gauge monitors the water temperature, so you know when it's hot enough.
An auto shut-off feature will turn the heater off when the water reaches a particular temperature. You could burn yourself if the water is too hot. All the best portable hot water showers for camping in this article come with different safety features.
However, the Camplux Pro 1.58 GPM Tankless Propane Water Heater is a superior option. It's super safe, even for indoor use.
Extras
There are some extra features you should also check out. A product with a warranty is an advantage if you're looking at long-term investment. You can opt for the Marey Portable Propane Gas Tankless Water Heater, which has a whopping 5-year warranty!
Furthermore, you may check the production materials. Pollution is always against the norms of camping. So eco-friendly materials are always the better option.
ALSO SEE:
9 Best & Safe Tent Heaters for Camping During The Winter
6 Camp Kitchen Tips for Effective Cooking While Camping
Best Winter Tent with Stove Jack
Other Gears You May Need for Your Propane Shower Heater
Most portable hot water showers can not function alone. There are other essentials you need. Your propane heater won't work if you don't have these gears. They include;
Bucket
You need a bucket to hold the water you heat. There are so many good bucket products you can get at affordable prices in the market.
Propane Tank
The hot water showers listed in this article are propane heaters. Hence, you need a propane tank for the gas for them, except for the tankless ones.
You have to buy one as they don't usually come with propane tanks.
A 1 lb propane tank is good enough to take along. But, you can go for larger sizes depending on your needs.
Camp Generator
You'll need a power source to run the pump when using most of these heaters. A camp generator is the most effective option if there's no electricity at the campground. But you can also use your car cigarette lighter in most cases.
Safety Tips When Using Portable Propane Showers with Pumps
Using a propane heater requires a lot of safety precautions. This is to avoid accidents. Remove all combustible materials from the area where your shower is mounted. Such materials can be set ablaze if nearby.
It only takes a small break in the water heater or a minor release of fumes to cause a chemical reaction that can cause an explosion. Duly store your device when not in use. Keep it free of dust and debris. You should not leave it outside as natural elements can harm it.
Also, having weak places or loose connections in a water heater might cause it to blow out and spray hot water everywhere. Hence, you should always check the heater's relief valve periodically for leaks. Pull-on the valve handle to ensure water flows when open and closes when closed.
Finally, don't even attempt to skip the instructions here. Every propane shower works differently and comes with a specific instructional manual. Read the manual before using it and consult it if you have any difficulties. If you don't get a manual, call the manufacturer.
Frequently Asked Questions
Q: What is the best portable shower for camping?
A: The best portable shower for camping depends on your criteria. You can go with any of the 5 quality products listed above that meet your criteria.
Q: How long do camping showers last?
A: This will depend on the quality of the camping shower. Good products will last for years.
Q: How do portable showers heat water?
A: Portable showers heat water just like any water heater. You fill your bucket with water, connect the device and turn it on.
Q: Are propane heaters safe to use indoors?
A: Most propane heaters are meant for outdoor use only. Only a few are designed to work indoors, so you should check the manufacturer's recommendations. Generally, it's not ideal to use your heater indoors.
Conclusion
Purchasing the best portable hot water shower for camping doesn't have to be complicated. You can buy a quality and durable product with the correct information and guide. I've provided all of that for you in this article. The products listed above are all highly rated by campers and should produce desired results.