We may receive commissions when you buy through the links on our site. Full Disclaimer.
Do you need a camp kitchen to enhance your cooking experience during your next trip(s)?
You're in luck because we've got what you are looking for.
Having the best camping kitchen will help you stay flawlessly organized, reduce mess, and ease your cooking. Boosting your camping cooking experience. 
However, since there are many options available on the market, finding the right one for you can prove strenuous.
Anyway, we have used our experience and expertise to select 8 of the surest bets you can rely on. But before we get into that, here are the top considerations you need to make before settling for a camp kitchen;
Sturdiness:

 You want to ensure you are buying a unit that can stand the test of time and not easily get broken during your camping trip.

Space:

 What type of stove will you be bringing? Consider the other cooking gears and utensils you will be using. How much cooking will you be doing?

Weight and portability:

 How much weight can you carry, and how much space do you in your car/truck have to occupy this gear?
We will expand on those and discuss the other considerations later in the buying guide section. 
But for now, here are our picks for the best camping kitchens:
Preview
Product Name
GCI Outdoor Slim-Fold Cook Station
Coleman Pack-Away Portable Kitchen
GCI Outdoor Master Cook Portable Folding Camp Kitchen
SylvanSport Outdoor Camp Kitchen System
Coleman Pack-Away Deluxe Portable Kitchen
Preview
Product Name
GCI Outdoor Slim-Fold Cook Station
Preview
Product Name
Coleman Pack-Away Portable Kitchen
Preview
Product Name
GCI Outdoor Master Cook Portable Folding Camp Kitchen
Preview
Product Name
SylvanSport Outdoor Camp Kitchen System
Preview
Product Name
Coleman Pack-Away Deluxe Portable Kitchen
Eureka Camp Kitchen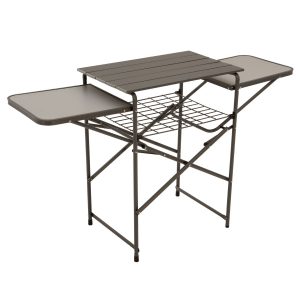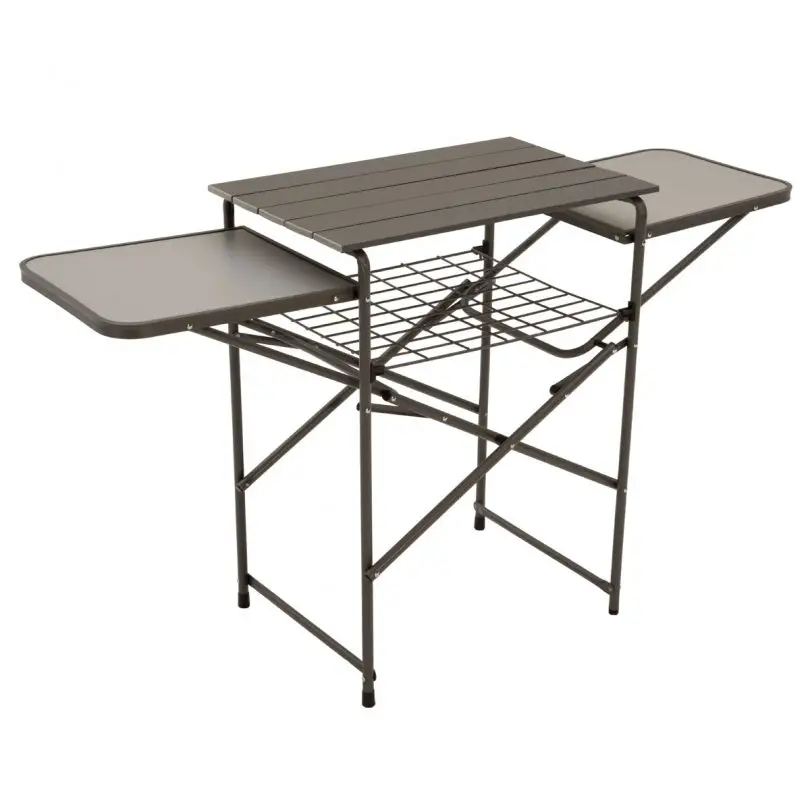 Image Credit: Eureka!
Frame Material Type: Steel
Countertop: 26 x 17 inches.
Work Station: 2 Side tables both are 17. 5 by 16 inches.
Table Height: 32 inches.
Weight: 18.25 lbs.
The Eureka Camp Kitchen is the perfect camp kitchen to use on uneven or rocky grounds. You will see why in the next few lines.
It is a decent-sized and easy-to-use cook station with a lot of room to prep meals. It is also doesn't take much time to setup.
The main cooktop and the frames are made of sturdy steel materials. And the countertop is loaded with 26 inches by 17 inches dimension, which should easily fit most camp stoves.
You will find the bottom wire mesh handy for drying off the pans and hanging or storing your utensils. 
We liked the anti-rocking foot, which helps to balance the table when using uneven terrain.
This cook station's major weakness is the two side tables/shelves made from a plastic material. Customers complained that they break off easily. So you want to handle that with care.
It weighs 14.8 pounds and folds easily into the provided carry bag.
PROS
Easy to setup

Anti-rocking foot

Carry bag
CONS
The side tables are made of inferior materials.
Coleman Pack-Away Portable Kitchen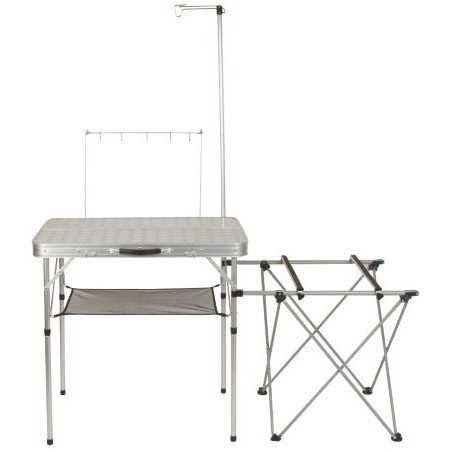 Image Credit: Coleman
Frame Material Type: Aluminum.
Grill Table (for stoves): 27.8 in x 20.5 in.
Counter Top: 31.5 in x 21.3 in.
Table Height: 30 in.
Weight: 13.8 lbs.
The Coleman Pack-Away Portable Kitchen comes with a very nice and well-organized setup. And because of its high rating, it was selected as Amazon's Choice product for "Camping Tables by Coleman.
You will appreciate how easily this camping kitchen can be assembled and folded. We chose it as the best portable camp kitchen,
One nice feature of this camping kitchen is the mesh storage shelf located underneath. It's excellent for drying off pots and pans and storing other cooking tools. 
The lantern hook and additional hooks for spoons and other accessories also make this item very valuable. Unfortunately, the lantern hook is a bit flimsy and will only be useful to hang lighter lanterns.
The main table's surface is 32 inches by 24 inches, which should be large enough for most to prep meals. 
Also, the side table grill will be able to carry most camp stoves. Although, at about 27 inches height, it may be too low for tall persons.
It is surprisingly quite sturdy for an item of 13.8 pounds. And it is available at a very fair price and packs well in the compact carry case that comes with it. 
Overall, this camp kitchen will be great for a small to medium camping group.
PROS
Easy to set up and fold.

Compact carry case.

Lantern hook for easy late-night cooking.
GCI Outdoor Slim-Fold Cook Station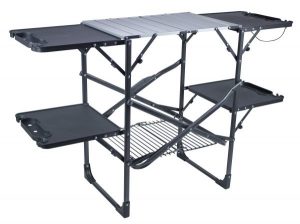 Image Credit: GCI Outdoor
Frame Material Type: Powder-coated steel.
Counter Top: 24 in x 16 in.
Table Height: 32 in.
Weight: 18.9 lbs.
The GCI Outdoor Slim-Fold Cook Station is one camp kitchen that gives you a lot of shelf and storage spaces. 
The simple design makes it easy to use. Little wonder, it has garnered well over 1,700 reviews of a total of 4.8 of 5 stars (as of the time of this writing) on Amazon. It's an Amazon's Choice product in the camp kitchen category.
We admire how GCI Outdoor was able to balance the sturdiness with the weight here. It is strong enough to hold most of your cooking gear while weighing just 18.9lbs.
The countertop was made from heat-resistant and sturdy aluminum, which measures 15.6 inches by 24 inches and should hold most camp stoves with ease.
It also features four plastic fold-out side shelves and a bottom wire shelf for storing your utensils and drying the pans.
This camping kitchen is very easy to assemble and folds away superbly. 
One downside is it doesn't come with a carry bag but features a carry handle for easy transport—no deal-breaker. However, if you wish to get a carry bag, check out this 24 x 36 Inches premium portfolio case by 1st Place Products.
We also felt they could have added a lantern pole for convenience's sake.
PROS
Lots of space

Easy to assemble and fold.

Sturdy
Cons
GCI Outdoor Master Cook Camp Kitchen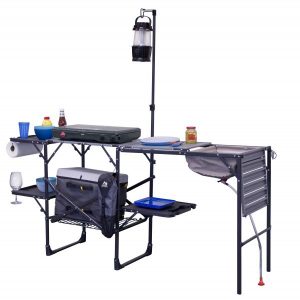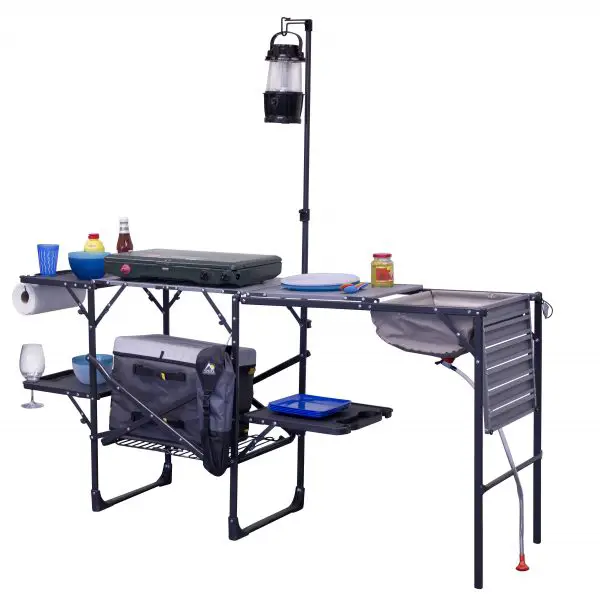 Image Credit: GCI Outdoor
Frame Material Type: Powder-coated steel
Counter Top: 15.6 inches by 55.9 inches.
Table Height: 32.1 inches
Weight: 22.4 lbs
If you are a fan of a massive kitchen top to cook your meals, you will like this giant cook station from GCI. This unit is packed with many features but comes at a fair price and perfect weight.
The Master Cook Camping Kitchen is very easy to set up and fold. 
An outstanding attribute is how compact it becomes when packed, considering its monstrous structure when in use.
You will find the aluminum countertop's large length very helpful. It gives the chance to move your camp stove about and use whatever space is left as your workstation or even dining. This nicely promotes convenience.
We fancy this unit because of the collapsible sink with a drain and trash bag holder additions. These combo options are usually only available in the more expensive camping kitchens. 
You also get a lantern hook to make those late-night camp meals smooth.
Underneath the main platform, you have two fold-out shelves to store items and a lower rack/wire mesh to dry pans or store more utensils.
The feet are not adjustable, so you have to find an even ground to setup.
 It weighs 22.4 pounds and can be transported with the carry handle when folded flat. It seems GCI Outdoor is just stingy with carrying bags because there is none in this package like the GCI Outdoor Slimfold Cook Station.
PROS
Great value for money.

Large workstation.

Easy to set up and fold.

Portable to carry.
Coleman Pack-Away Deluxe Kitchen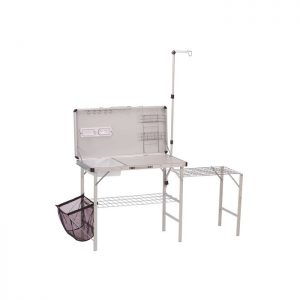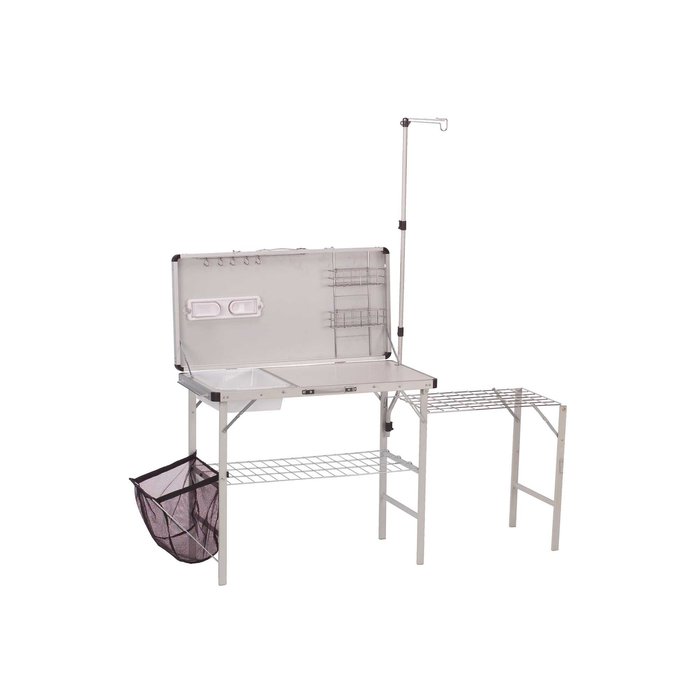 Image Credit: Coleman
Frame Material Type: Aluminium
Grill Table for Stoves: 26.4 in x 15 in.
Countertop: 39.4 in x 19.7 in.
Table Height: 32 in.
Weight: 36.5 lbs. 
If you are going on a car camping trip or planning a large tailgating, you will find this Coleman Pack-Away Deluxe Kitchen interesting.
Made of a moisture-resistant MDF board, the 39.4 inches x 19.7 inches countertop is a lot of space to prep meals. At the same time, the side grill table can accommodate most camp stoves. 
Underneath the top table is long mesh wire shelves which you can use to dry off your pans or store utensils.
You also want to know that this is a camp kitchen with a removable plastic sink of about six inches deep. Beside the sink is a towel hanger.
Of course, there is a pole to hang your lantern for late-night cooking. 
We liked the windshield feature, which also houses the utensils hooks, a mesh basket, and a paper towel holder. There are complaints about the paper towel holder not holding well, so we suggest you instead use the lantern pole for the paper towels.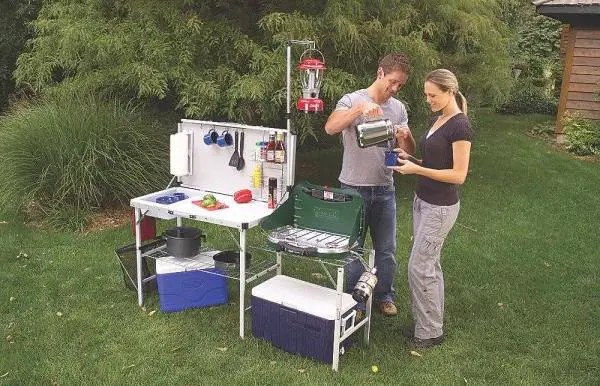 Coleman was kind enough to add a multifunctional basket to the side; this can serve as a trash bin or additional storage for your lighter items.
At 36.5 pounds., this is a heavy camp kitchen, but the many features and the sturdiness it offers are good trade-offs. 
Folding it can be a little tricky and a bit rough, but it's still quite easy and comes with a carry bag for easy transport.
PROS
Cost-Effective

Sturdy

Plenty of space
SylvanSport Over Easy Camp Kitchen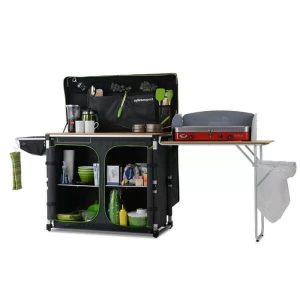 Image Credit: SylvanSport
Frame Material Type: Aluminum.
Stove Counter: 32-1/4 in x 18in.
Work Station: 38in x 18 in.
Table Height: 32 in.
Weight: 45 lbs.
If you don't mind spending over 300 bucks on a camp kitchen, then the Over Easy Camp Kitchen can easily hand you the best camping cooking experience.
You will enjoy this camping kitchen because it provides you with a lot of opportunities and spaces. 
The storage unit (pantry) comes with nine cubic feet of space, which can be used as four or two shelves depending on your preference using the included rigid shelves. The pantry comes with zippers to provide extra protection for your items.
Interestingly, the two countertops to prep meals and place camp stoves are bamboo-made against the industry standard (aluminum). 
There is an extra place for the washbasin on the very left side, while on the right-hand side is another piece to hold your trash bag.
There are plenty of other accessories like the paper towel holder, three utensils hooks, and we especially liked the removable steel windscreen, which is meant to prevent the camp stove from wind. 
And the Leveling Feet feature helps to keep the balance when using it on uneven ground.
Unsurprisingly, this unit weighs 45 pounds, but it collapses easily into the integrated carry bag. Although the setup and takedown may require more care and time than most camp kitchens, it's easy, and the video below should help.
Overall, this camp kitchen is worth every penny.
PROS
Lots of space

Sturdy

Easy to setup

It comes with a washbasin/sink.

Leveling feet to balance on uneven grounds.
Camco Deluxe Foldable Grilling Table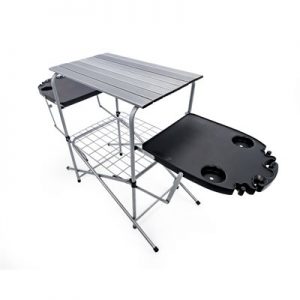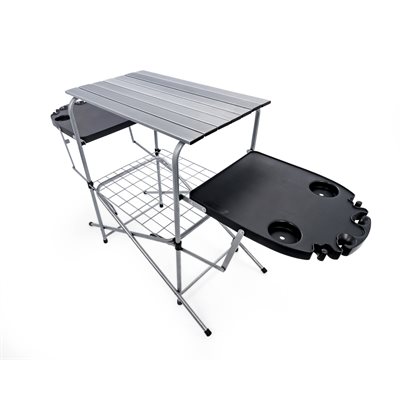 Image Credit: Camco
Frame Material Type: Steel.
Countertop: 26.25 in x 16 in.
Table Height: 32 in.
Weight: 20 lbs.
The Camco Deluxe Foldable Grilling Table is one of the easiest camp kitchens to setup and takedown. But the fascinating thing for us is how it becomes just 6 inches tall when you fold it properly.
The aluminum countertop and the lightweight steel frame help it stay sturdy while maintaining a fairly lightweight.
The two plastic but sturdy side tables can hold other utensils like cups, plates, and hook kitchen spoons. And you can use the bottom wire to dry off the pans or store more utensils.
It seems like an important upgrade to the older Camco Deluxe Folding Grill Table, which got many complaints about being too hot under the sun.
We find it tough to fault for this unit, but it could well use a lantern hook for night camp cooking. And also maybe adjustable feet to level it when setting up on uneven terrain.
However, it comes with a carry case for easy transport.
PROS
Easy setup and takedown

Folds really small

Sturdy
Laralinc Camping Kitchen Table
Frame Material Type: Aluminum.
Stove Counter: 24 in x 16 in.
Table Height: 31 in.
Weight: 16.6 lbs.
Laralinc may not be among the popular brands in this industry, but this product is surely one of the best camp kitchen tables for the money. 
The main top of the table is meant to serve as the cook station for your stove. It is made with aluminum and measures 24 inches by 16 inches with the removable windshield, 26 inches without it. 
Also, there are two additional side tables to prep your meals or perform other tasks at the top. The longer one is about 26 inches long and may be useful if you have an additional stove.
The roomy design also gives way to three additional shelves to store your items. One is directly underneath the main table, while the other two are located inside the moisture-resistant fabric cupboard. We liked the zippered cupboard feature because it can provide a level of protection to your items.
It is surprising why the design failed to feature a wire mesh-like most other camp kitchens to dry out pans. You probably won't appreciate the exclusion of other little but important accessories like lantern poles, towel hook, and utensils hook, etc. Maybe they just don't want to overkill it.
However, this item is super easy to set up, lightweight (and yet sturdy) and folds up easily in the provided carry bag.
Their customer service responds quickly to questions, and they offer a replacement or money back guaranty if you are not satisfied.
PROS
Great customer service

Plenty of storage compartments and workspace

Lightweight
CONS
No mesh feature to dry off the pans
Buying Guide: How to Select the Proper Camp Kitchen for You
Perfect Stove Space
What is a kitchen without a stove? 
So, when buying a camping kitchen, you want to be sure that the stove's space is enough to house your beloved camp stove. 
There is a dedicated stove space for most camp kitchens, while some will have you share this space for meal prep, etc. 
In all, you want to know the size of your stove and compare it with this space. But rest assured, all the picks in our above list comes with enough space for most camp stoves.
Roomy Counter Top
Another essential topic to consider in a camp kitchen is how much space you have to prepare your meals. 
If you are cooking for a large group, you will need ample space like the GCI Outdoor Master Cook Camp Kitchen and Coleman Pack-Away Deluxe Kitchen offers. Such space will help bring out the chef in you. 
Huge spaces like that usually mean more weight to carry. So, if you are camping alone or in a smaller group, you may want to lower the bar on this.
Countertops can also double as camping dining tables in most cases.
Table Height
If you are a tall person, you might find it challenging to make food in camping kitchens with short kitchen tables. 
Unfortunately, the tallest countertops are somewhere between 30-32 inches in height. 
In the above review, we ensured to select only those that fall within that height or higher. The GCI Outdoor Master Cook Camp Kitchen has a table height of 32.1 inches.
However, if you still find it difficult, you can try using a camping chair to ease your back.
Adequate Storage Space
It will help if your camping kitchen comes with enough storage spaces to keep items like utensils and ingredients. This will generally improve your efficiency and productivity. 
Such spaces can come as side tables, shelves, wire mesh, or storage compartments. Typically, the more cooking you do, the more storage space you will need.
The SylvanSport Over Easy Camp Kitchen and GCI Outdoor Slim-Fold Camp Kitchen both featured ample storage allowance.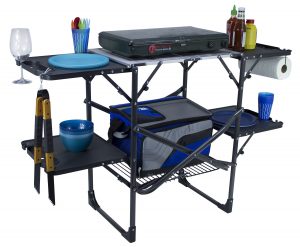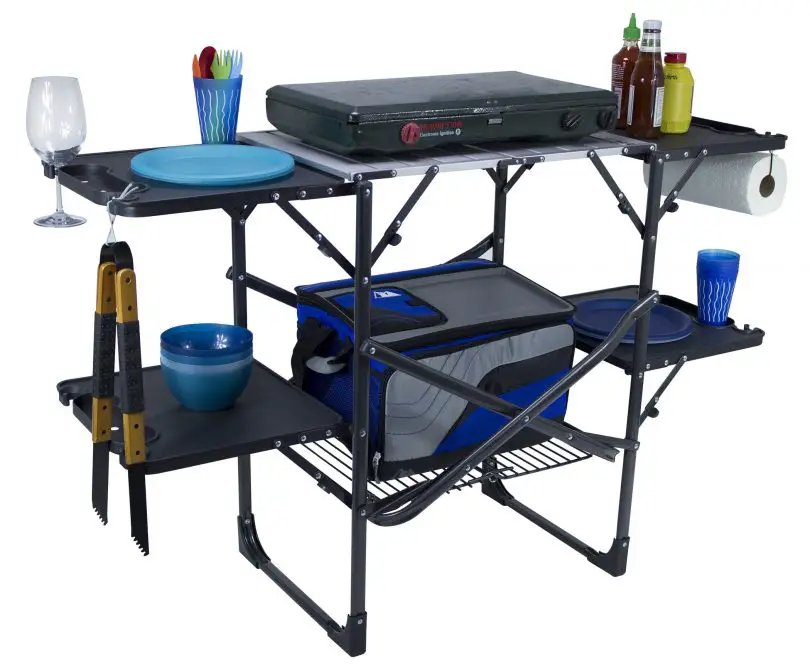 Sturdy Frame Materials
It is vital to buying a camp kitchen made from durable materials for a few critical reasons. Apart from wanting something that can last for years, you also don't want to avoid the hazard that could occur if the camping kitchen collapses while in use. Think about the hot meal, the gas, and other sharp items like a knife. 
Steel and Aluminum frames are generally durable, and we have ensured to stick to only those in the above list.
Adjustable Feet
Chances are many of the grounds you will be camping at will be uneven.
It won't be easy in cases like that if your camping kitchen does not come with adjustable legs. Because how then do you keep the table balanced? 
You can use planks or stones to balance the feet, but that's stressful and still potentially risky.
Fortunately, many of the camp kitchen we listed above has such feature. But one that stands out is the Eureka Camp Kitchen for its anti-rocking foot feature.
Weight and Portability
It's less likely that you will be carrying a camping kitchen if you are backpacking. 
Still, you don't want something that you cannot easily lift and move from point A to point B. A pair of dumbbells will be better for weight lifting -:).
The Coleman Pack-Away Portable Kitchen is the lightest among our picks. It is well under 15 pounds.
More importantly, you want to ensure to consider a unit that folds small to conserve space in your car or RV. 
Fortunately, all in the above list folds nice and comes with a carry bag or handle for easy transportation. But the Eureka Camp Kitchen and the Camco Deluxe Foldable Grilling Table become 5 inches and 6 inches respectively in height when folded.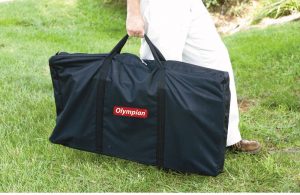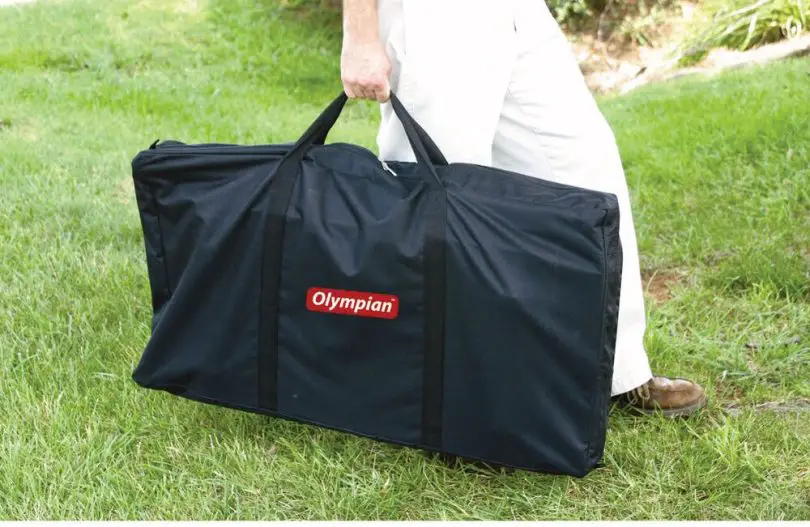 Anyway, you do not want to trade sturdiness for weight or portability. Go for something that strikes the right balance of these features. And your capacity.
Easy Setup and Folding
Enough adventure already awaits you on the camping or hiking trip. So, there is no point going for a unit that takes forever or is hard to set up or fold down.
There is even a chance that you will break something while struggling during the setup/takedown.
Cost
The size of your pocket will definitely weigh in your final decision. But you do not want to compromise on the quality and important features for monetary reasons. 
Interestingly, you will most likely only be spending a few extra bucks on getting the next best quality item.
The cheapest on the above list is the GCI Outdoor Slim-Fold Camp Kitchen, which is still sturdy and comes with many shelves.
And the most expensive is the SylvanSport Over Easy Camp Kitchen.
Washbasin / Sink
Unlike most other features we already mentioned, the sink may not seem very important. 
But, how will you wash the dirty dishes? 
The inclusion of a sink will help your camping kitchen deliver a better and more convenient experience. 
And it will be extremely valuable where there is no access to a conventional washbasin. 
Some of our picks above feature unique sinks. However, we consider the GCI Outdoor Master Cook Camp Kitchen superior for this feature because of the extra drain spout it comes with.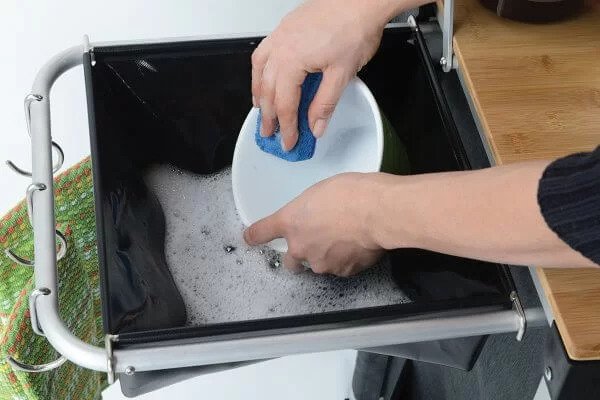 Lighting System
Some manufacturers thoughtfully included lantern poles or hanger in their designs. 
You may not appreciate this feature until you find yourself in the position where you have to cook at night during your trip. 
Placing a lantern directly on your workstation can be pretty inconvenient and possibly unsafe but hanging it at the top ensures the light is well circulated.
Extras
Based on your personal preference, other features you may want to watch out for include a windscreen to protect the stove from wind, a fabric cupboard for extra protection for your food items, mesh for drying the pans, a paper towel hanger, hooks for the kitchen utensils and cups, and so on.
Which Camping Kitchen Should You Buy?
If you are still finding it tough to make a choice, we get it. There are so many considerations to make, and it might be tiring. But here are our bias choices;
Editor's Best Choice
Sale
GCI Outdoor Master Cook Station Portable Camp...
Of all the camp kitchens we reviewed, we found the GCI Outdoor Master Cook above par. It checked most of the boxes, offering ample features. Yet it is neither too heavy or expensive. We think it will be a good buy.
Best Deluxe Camp Kitchen
Sale
SylvanSport Outdoor Camp Kitchen System for...
If you have a good budget, then the SylvanSport Over Easy Camp Kitchen will interest you. Plenty of room for cooking and storage spaces are just a few of the features it offers. Yet it is very sturdy.
Best Portable Camp Kitchen
Sale
Coleman Pack-Away Portable Kitchen
In terms of portability, we give it to the Coleman Pack-Away Portable Kitchen. And why not? It is the lightest on our list and folds compact into the carry bag.
Best Budget Camping Kitchen
How To Get The Best Out Of Your Camp Kitchen
We advise that if you are getting your camping kitchen for the first time, be sure to put it to a small use as a test before setting out with it on your adventure. 
Sometimes, vendors ship out products with defects, and some of those defects can be unmanageable. And you do not want to get to your campsite to find this out.
Also, you become accustomed to the item, the spaces, and so on.
End Notes
We reviewed the 8 of the best camping kitchens based on our experiences and bias in the above article. 
We also discussed the vital things you need to consider before settling for any of these items.
The ball is now in your court, but whatever you decide, make sure to balance your pocket size with your needs and do not compromise on quality.