We may receive commissions when you buy through the links on our site. Full Disclaimer.
Are you thinking of taking your kid(s) camping? Are you feeling confused about the items to take along with you? You need not worry. We've got you covered.
Nothing ruins a camping trip like a forgotten item. We won't let that happen to you. Camping with kids is different from camping with adults.
There are some camping essentials for kids that you must take along with you. We'll tell you all the camping essentials along with a breakdown of why you need them.
1. Tent
What is a camping trip without a tent? Where would you and your kids sleep? A tent is the most important camping item.
Go with a large tent that can accommodate all of you along with your luggage. It's even better if the tent is divided into compartments.
2. Sleeping Bags
Your kids can't sleep on the bare floor. They'll sleep in the sleeping bags. You can also go with inflatable mattresses and small pillows.
You can also cushion the floor of the tent with floor mats and padding for more comfortability. Kids roll over a lot when they sleep, and this extra care will help them to sleep better.
3. Food Items
Pack along with enough food items that will last you for the duration of your camping trip. It's better to go along with food items that are easy to prep over a campfire without any fuss. Quick barbecue meals that can be foil-wrapped are welcome.
Understand that it might not be easy to get any food to buy close to a campsite. So, go along with what you need. You'll also need some snacks and munchies for your kids. They'll come handy in-between meal times.
4. Kitchen Cutlery, Plates, Cups, Bowls, Coolers, And Flasks
Go along with dishes and cutlery for eating your camp meals. You'll also need coolers for cold drinks and ice. Food flasks are necessary for keeping your food warm. The more portable they are, the better.
5. Water Bottles & Drinking Water
Water bottles are necessary, especially if you and your kids will be going on hikes. If there is no potable water at the campsite, you might need to go along with bottles of drinking water for you and your kids.
6. Lamps, Flashlights, Headlamps, and Glow Lights
You need various portable lighting sources at the campsite. Go along with lamps, headlamps, and flashlights. You can also go along with glow lights. You can also arrange the glow lights in a jar to form a lantern. Kids also love playing with these glow lights.
7. Weatherproof Clothes & Items
Camp trips are much better when the right clothes are worn. The weather could change in the twinkling of an eye. You need to be prepared for any weather. Take more than enough clothes for you and your kids because they might need to change clothes more than once.
If you are camping in cold weather, go along with scarves, gloves, hats, coats, and extra socks. You can also take along hand fans and portable fans if hot weather is expected.
8. Toiletries
It would help if you had basic toiletries like toothbrush, toothpaste, deodorant, shampoo, bathing soaps, body lotion, towels, toilet paper, etc.
You can buy small packs of these items, so they fit into your luggage better.
9. First Aid Items & Medication
You need to go along with basic first aid items in a first aid box. The first aid box will include things like cotton wool, iodine, bandage, antiseptic, pain relievers, cleaning wipes, methylated spirits, and other items.
Kids trip their feet and fall a lot. They could easily bruise their knees and have other injuries on the campsite.
If there is anyone under medications or suffering from any health condition, you should go along with their medication.
Sale
Bestseller No. 1
EVERLIT 250 Pieces Survival First Aid Kit...
✅【250 PCS First Aid Survival Kit, Meaningful and Cool Gifts Ideas for Families and Outdoorsman】Designed by army veterans and survivalists, the...
✅【Be Prepared for the Unexpected, Complete Comprehensive First Aid Essentials Exceeds OSHA Guidelines】The product includes more than enough med...
✅【Molle EMT Pouch, Durable, Portable, and Water-Resistant】The military grade bag was made from 1000D water-resistant nylon, it offers three...
Bestseller No. 2
First Aid Only 442 All-Purpose Emergency...
Comprehensive Emergency Kit: Includes adhesive fabric and plastic bandages, antibiotic ointments, BZK antiseptic towelettes, burn cream packets,...
Convenient Packaging: An ideal workplace and home first aid, it comes in a soft-sided zippered case complete with clear plastic pockets designed to...
Easy Access: This convenient and versatile work, home and car emergency kit features 2 separate layers with individual compartments that make...
10. Toys And Board Games
Toys and board games are camping essentials for kids. You need toys and board games to keep your kids happy when camping. Kids get bored pretty fast, and you'll need these items to keep them engaged.
Toys also come in handy when adults are busy with other activities.
11. Matches, Paper, And Flammable Items
You need matches, paper, and other items for starting a campfire at the campground. The campfire will serve as a meeting point, and you can also gather around it to keep you warm. You can also use it for cooking your meals.
12. Backpacks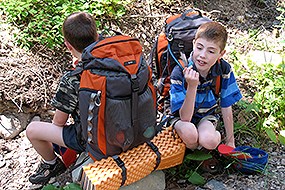 If you and the kids will be going hiking, you'll need little backpacks for them. The backpacks will store bottled water, light snacks, and other items.
13. Camp Gas Cookers or Stoves
You'll need these portable cookers or stoves to cook your camp meals. They are all-in-one units with a gas tank at the bottom, and a burner for the flames used to cook food.
14. Bug Spray & Mosquito Repellant Lotion
Go along with bug sprays and insecticides to keep away bugs from your tent. If you stay in a tropical region or a region where you have mosquitoes, rubbing mosquito repellant lotion on your kids will ward away mosquitoes.
You can also get bug repellant wristbands for your kids. Citronella candles also work to repel bugs.
15. Pool Rafts & Float Beds
If you are camping near a stream or a water source, you can go along with these floats so your kids can have a safe, excellent time on your camping trip.
16. Foldable Camping Chairs & Tables
You and your kids will need foldable camping chairs for sitting down inside and outside the tent. The chairs and tables will be useful for eating camp meals, are easily foldable.
Also Read: 13 Hacks for Camping With Kids
Conclusion
These essentials are necessary for your next camping trip with your kids. Be sure to create a checklist containing all these items. Tick off each item as you pack it in. It's better to overpack than to under pack.
You can have a camping test run at your backyard to identify other essential items that your kids will need quickly.