We may receive commissions when you buy through the links on our site. Full Disclaimer.
Camping tents are one of the essentials you should carry when going camping. "If you're looking to buy a tent you can stand up in, you might be wondering if such tents are worth it. Are they not too heavy to carry around? How much comfort will such a tent provide?
It might not be in high demand than smaller tents and are usually more expensive, but tall campers will find them more suitable because of their height and comfort.
Tall camping tents are usually more flexible and provide more space than regular-sized camping tents. Some of them come with separate rooms and storage space.
Campers might think that small camping tents are easier to carry, but camping tents you can stand up in will accommodate more persons, eliminating the need to carry more tents. Some camping tents you can stand up in might seem bulky and difficult to set up, but it is worth the stress when you consider the comfort and space they offer. Most of them can also withstand harsh weather conditions.
Let's take a look at some camping tents you can stand up in.
1. Gazelle T4 Camping Hub Pop Up Tent
This
T4 Camping Hub Tent
is a great 4-person pop-up tent you can stand up in. The tent comes with many interesting features, which is why it has a lot of 5-star ratings on Amazon (a bit more about that in the next few lines). It is a 3 season tent.
Features
Convenience; you are getting a tent with a 6.5 feet height, which should be tall enough for most tall persons. It also comes with a lot of room for up to four persons. The two D-shaped doors will provide you with easy entry and exit.
Furthermore, this is a preassembled, pop-up tent that can be put up in less than 5 minutes by a single person. You can remove the tent floor can be removed to ease cleaning. And it is easy to pack.
Ventilation Design; the ventilation setup of this tent is superb. You get six mesh windows and two mesh doors for proper airflow into the tent. In addition to that, you can also detach the rainfly on the screened roof for even more ventilation or just to have a view of the sky.
Versatility; as mentioned earlier, this is a 3 season tent. It is well ventilated, can hold up well in the high winds, and should do well in the rain because the fabrics it is made with are water-resistant. The waterproof rating of the tent is 2000MM. Also, the UV rating is over 50.
Capacity; this tent is pitched to be for four persons, but with just about 7.8 feet by 7.8 feet base, this can only fit a single queen-size bed and leave a small room for other gears. But it should be able to sleep four adults if you are all going to be in sleeping bags.
PROS
Tall pop-up tent.
Easy to set up and take down.
Amazing ventilation system.
Durable.
Removable floor.
Verdict: This tent's stand-out features are the sturdy YKK zippers, the removable rainfly, the removable floor, and this is the only pop-up tent on this list with such an amazing peak height. But it is quite a heavy tent at 30 pounds, so it may not be ideal for backpacking.
2. ALPS Mountaineering Camp Creek 4-Person Tent
This 4-person tent is made by ALPS Mountaineering, a company known for producing gears meant for outdoor activities. It is a luxury tent that gives you almost the same comfort you get in your home while on a camping trip. It provides enough interior space for up to four persons. If you need more space, you can go with the 6-person version of ALPS Mountaineering Camp Creek, it's another tall camping tent, and they have very similar features.
Features
Convenient; The tent is easy to set up and pack up. The tent's center is tall with straight sidewalls to allow tall campers to stand and move around quickly. There is a storage space to keep your belongings when resting inside the tent. It weighs about 20 lbs.
Ventilation; You get four windows and a door at each side of the wall that is quite large. The mesh door and windows come with zippers to allow you to control the ventilation and keep the inside of the tent well aerated.
Versatility; It is a great choice for those who are going camping, mountaineering, and other outdoor activities. The tent is made from coated polyester fly and polyester oxford floor to keep you dry during rain and protect you from the cold.
Capacity; How tall are you? This tent is about 7 feet tall. It also has a dimension of 90 by 102 inches, which is large enough to comfortably accommodate four people.
PROS
7 feet tall.
Large doors and windows.
Easy to setup.
Great for various weather conditions.
Verdict: The ALPS Mountaineering Camp Creek 4-Person Tent's unique features include its hub design and the tent's luxurious look. The weatherproof fly buckles allow for maximum protection. Although the price might be on the high side, it is worth every penny considering its amazing features.
We believe this is the best (four) 4 person tent you can stand up in.
3. Timber Ridge 6-Person Instant Cabin Tent
The
Timber Ridge 6-Person Instant Cabin Tent
is a dome-type summer tent made for six persons. It should conveniently accommodate six persons and leave some space for the storage of camping tools. Tall campers will find this tent appealing because of the height.  We also featured this tent in our article titled;
Easiest Tent to Set Up by Yourself
.
Features
Convenient; This tent is designed with a single door to allow for easy entry and exit. It also comes with a storage bag where you can keep your valuables like your phones,  wristwatch, and other accessories while you rest or sleep in this tent.
Ventilation; The door and four large mesh windows allow for continuous airflow. The windows also come with zippers allowing you to close the window in case of rainfall or any severe weather condition. The top window can provide adequate ventilation on its own.
Versatility; This camping tent gives you a wonderful experience when going for any camping activity. It can be used for outdoor activities like hiking, mountaineering, camping, or fishing.
Capacity; This unit comes with a 6.5 ft height, which should be tall enough for most people. It also has a base area of 10 by 10 feet, which should easily accommodate six persons.
No assembly to needed; The tent can be set up in less than 10 minutes as all you have to do is open the tent and arrange it properly.
PROS
Pretty easy to set up.
Roomy.
Affordable.
Tall enough for most people.
Verdict: The Timber Ridge 6-Person Instant Cabin Tent has unique features like the dome shape, affordable price, and easy setup. It might not be appropriate to use in heavy rainfall, but it is great for camping in the summer, and it's also a freestanding tent.
4. Coleman Elite Weather Master 6 Screened Dome Tent
This six-person tent unit is a product of Coleman. Coleman Inc. is one of the top dogs in the outdoors recreation accessories industry. This summer camping tent comes with amazing features such as the screened room, doors with hinges, and more.
You also have the option to add the Odoland Portable LED Camping Lantern with Ceiling Fan to your order if you're buying from Amazon.
Features
Convenient; The hinged door allows you to enter and exit the tent easily. Also, the LED lights allow you to read and perform other activities at night.
Ventilation; The four windows and the door make sure there is enough airflow to the two rooms. This Coleman tent is also tall, with a wide area for large internal space allows the room to be easily ventilated. The ceiling is also meshed to provide vertical circulation in the room.
Versatility; As the name of the tent suggests, this tent is truly a weather master. The welded floors with the inverted seams keep water out of the tent. The tent comes with a meshed roof that is transparent to allow you to enjoy the sunlight inside the tent. The Rainfly gives extra weather protection.
Capacity; This cabin-tunnel tent has a peak height of 7 feet and comes with a total area of 153 square feet with a dimension of 17 by 9 feet, which will easily sleep up to 6 people in sleeping bags.
PROS
Very spacious.
Screened rooms.
Meshed ceiling.
Durable.
Verdict: Some features that make this tent stand out are the lighting system, which includes the overhead light and the switch that allows you to put on the light without getting up. Although this unit is bulkier than the average tent, making it a bit more difficult to set up. But it's worth it for all the comfort it provides.
5. Coleman 8-Person Instant Family Tent
The Coleman 8-Person Tent is another large that is tall enough to stand up comfortably. You will find this appealing as a tall person. It also comes as an instant cabin tent, so setting this up is no problem. Furthermore, this tent provides a lot of incredible features.
Features
Convenience; The tent is easy to set up, and such one person can fully erect it within a few minutes. Besides, it is a freestanding tent, requiring no special support. The poles are already pre-attached to the tents allowing you to set up the pole a lot faster.  You also get a room divider for privacy.
Ventilation; This tent comes with mesh windows and two doors to ensure the tent is properly aerated.
Capacity; The Coleman 8-person family tent has a dimension of 14 feet by 10 feet and should accommodate two queen-sized airbeds, and should easily sleep 7-8 adults in sleeping bags.  It also has a peak height of 6.7 at the center, making it another tent you can stand up in full.
PROS
Spacious.
Easy to set up.
It has a simple design.
Room divider for privacy.
CONS
You have to buy a rainfly separately.
6. Wenzel Kodiak 8 Person Tent
This Wenzel Kodiak 8-person tent another large and tall family camping tent that you should consider if you are camping with 5-8 people. This tent is made available from the stable Wenzel, one of the USA's leading and oldest outdoors gear companies.
This unit offers two separate rooms to provide you with privacy if you are camping in groups! One unique feature of this tent is that it is both a dome-style (in the main room) and a cabin-style tent (in the other room). The tent weighs about 27 pounds, which makes it suitable for car camping.
Features 
Convenience; With the separate room feature, this tent provides you with enough privacy. There are two doors; one leads to the screened room from the outside while the other leads to the main room. Additionally, the ceiling is made of mesh to allow you to look at the sky and enjoy the view.
Ventilation; The main room has a ventilation opening at the back, which can be covered with the zipper, though you can choose to keep it open as it comes with a cover to stop rain from entering the tent. The windows are also large enough to allow optimized airflow.
Versatility; Though this tent comes with a simple design, it is packed with many features that are quite useful. You get a removable rainfly that you can use to protect the tent from rain and dews, promoting proper airflow when removed.
Capacity; The main room has a height of 6.5 feet. The tent's base is measured at 16 by 11 feet, and the main room occupies 60 square feet of that. You can put up to 2 queen-sized beds in this tent, and you'll still get enough space for your other gear.
PROS
Great design for airflow.
Separate room features.
Spacious.
Easy to set up.
Inexpensive.
CONS
Not ideal for high winds or heavy rainfall.
Verdict: Overall, this tent is decent. I will recommend this tent for a family camping trip in the summer. Couples with kids can have private time in one room while the kids stay in another room. The meshed ceiling allows you to enjoy the view of the stars. You can set it up alone in about 15-20 minutes after a little bit of practice. However, fixing the rainfly can be a bit of a challenge because of the tent's height.
7. Core 10 Person Straight Wall Cabin Tent
Here we have another great tent from Core. This 10-person Straight Wall Cabin Tent is another great
family camping tent
.  With a peak height of 7.1 feet, this is arguably the best tent for a tall person. Unfortunately, with its features, this tent can only perform well in the summer. It comes with an amazing ventilation design, which makes it outstanding for warm climates.
Features
Convenience; This tent is very tall and comes with lots of useful features to maximize comfort. You will get a carry bag for easy transport. There are also two small pockets on the wall for storing camping gears and electrical access port to get power into the tent. In addition to those, you still get a privacy room divider.
Ventilation; The ventilation in this tent is superb. This is largely due to the numerous doors and windows and the ceiling made with mesh. Even when it rains, the floor vents allow for good airflow, and you can keep them open anytime.
Versatility; The floor of the tent is made from completely waterproof polyethylene. The floor and the walls are built from polyester, which is also waterproof. Although it's advisable to use this tent during summer, it can still hold out in spring and autumn.
Capacity; The tent's peak height is 7.1 feet tall enough for most tall persons to stand without bending. With a base size of 14X10, this unit will sleep about ten people without leaving any storage space. But it can conveniently fit two queen-size airbeds and leave some space, making this more ideal for a family of 4-6.
PROS
It is a quite tall tent
Two entry doors.
Amazing ventilation system.
Room divider.
Affordable price.
Verdict: What stood out about this tent is, of course, the height, the two entry doors for each room, and also the large windows to ensure proper ventilation. The price is also affordable for the features it comes with. I will recommend using the tent for 4-6 people to ensure that you get maximum comfort.
8. Core Lighted Instant Cabin Tents
The Core Lighted Instant Cabin Tents are another great product line by Core. As the name suggests, there is an integrated light system, and it will take you just a few minutes to set up this tent. This tent comes in three varieties that can accommodate 6, 9, and 12 persons.
Features
Convenience; This unit comes with LED lights attached to the tent's rooftop, enabling you to enjoy camping even at night. There are two switches located on the inside and outside of the tent so you can put on or off the lights wherever you are. Set up can be done by one person.
Ventilation; This tent comes with two mesh doors. The windows are also made with mesh and can be found all around the tent. The ceiling is also made with mesh, allowing you to enjoy the night sky as the cool air enters the room. There are still some adjustable vents at both ends of the tent.
Versatility; The tent is equipped with water-resistant fabric giving the tent protection during rainfall. This tent was designed to be used in the summer. It is not so good for rainy seasons and cold weather because it has a mesh ceiling that can allow cold air to enter the tent easily, and the waterproof rating is not impressive at all.
Capacity; The 12-person tent comes with a base of 18 by 10 feet, indicating that 12 people sleeping in this tent at a time might be too much unless you want to sacrifice storage space to get enough space for sleeping.  There are three rooms with two dividers in between. With a peak height of 6.7 feet, you can comfortably stand on the inside.
The 9-person unit has a base of 14 ft x 9 feet and 6.5 feet center height, while the 6-person version has a base of 11 ft x 9 ft and 6 ft center height. They are all tall, depending on your preference.
PROS
Spacious.
Easy to set up and take down.
Freestanding.
In-built LED.
 Verdict: The feature that stood out in these tents is the Built-in LED Lighting system with the internal and external wall switch. The electric cable port also comes in handy to supply power to the tent used to power the lights and any other device.
9. Coleman Screened Canopy Tent
Here, we have another Coleman tent. But this time, it is the Coleman Screened Canopy Tent. It is a popular choice because of its portability and completely vertical walls. This tent is very easy to set up. It provides perfect protection against
bugs
.
Features
Convenience; It will take roughly 3 minutes to set up this tent. It is fully freestanding and tall enough to stand up in. The walls are made with a removable mesh fabric, leaving only the roof and frame used as a gazebo.
Ventilation; This is an open tent. The mesh fabric used to form the screened wall allows good airflow in and out of the tent. There are two doors in this tent to which also means better airflow.
Versatility; It is well suited for summer but still can be used during rainfall, autumn, and spring. It is not recommended to use during winter because them because of the screened wall. It can also be used as a gazebo by removing the screened wall and leaving just the roof and the frame.
Capacity; This is a hexagon-shaped tent with dimensions of 12 and 10 feet. It has an area of 90 square feet and can pass for a large tent. You can place a round or square table for four and five large seats around the table. With a peak height of 8.4 feet, this tent is the tallest tent on our list.
PROS
Waterproof roof.
Very tall.
Well ventilated.
Great protection from bugs.
 Verdict: One feature that stands out for this tent is the impressive height. It also looks cool and well built. The screen walls are also amazing in keeping mosquitoes away. The rooftop gives 50% protection from UV rays.
Best Tents You Can Stand Up In – Buying Guide
Here are some important things to consider when choosing tents tall enough to stand up in, you can stand up in.
Height
Buying a tent with tall center height is usually a priority for tall campers. While the height might not matter for teen and kids campers, this is of major priority, especially for older tall men.
Another great advantage of a tall tent is that you can use bunk cots to maximize space within such tents if you are camping with kids.
If you are shopping for a tent for the height, you can go for the Coleman Screened Canopy Tent with a height of 8 feet and 4 inches. But the Core 10 Person Straight Wall Cabin Tent, which comes with 7.1 feet, is what we recommend as it is a more natural camping tent.
Capacity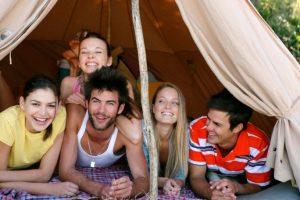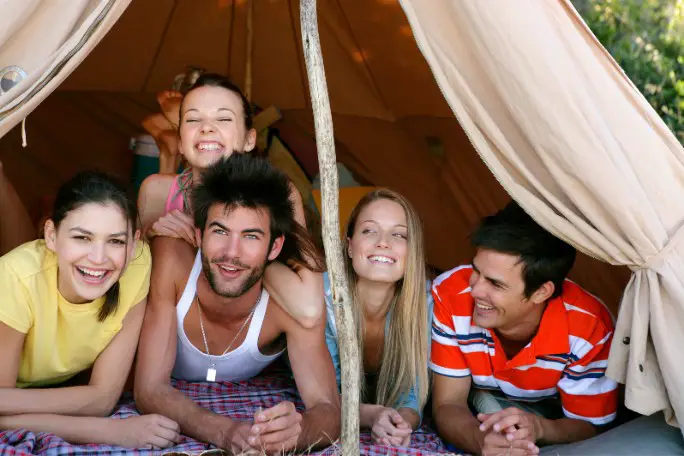 This is one major feature campers look out for when searching for a tent. The capacity has to do with how much space is available in the tent. We always recommend you at least subtract 2-3 persons from the number of persons the manufacturer is pitching the tent to be for. The 12-person version of the Core Lighted Instant Cabin Tents is the largest camping tent on the above list. It will be perfect if your camping group is made up of around 8-10 persons.
Rooms
If you are camping in groups or camping with your kids, you might want some privacy. This is where room separation comes in handy. The 12-Person Core Lighted Instant Cabin Tent comes with two dividers, which you can use to separate the tent into up to three rooms.
Material
The material a tent is made of is very important as it can be a major factor that will determine if your camping experience would be memorable or not. It will also determine how durable your tent will be. Tents that are made from polyester or nylon are usually waterproof. Besides, the materials also determine the weight; for example, a tent made from polyester is usually lighter than a tent made from cotton.
Weight
How will you get getting to the campground? Are you backpacking or car camping? This is an important question to ask yourself before settling for a heavy tent. If you are backpacking, you will have to go for a fairly less light tent, whereas if you are driving to the campground, you may care less about the tent's weight.
Tents Tall Enough to Stand Up In – FAQs
What are the best tents for a tall person?
The best tent for a tall person should be a tent that you can stand up in.  It should have a great peak height of at least 6 feet. Unfortunately, such tents are mostly available in the family camping type.
How high should a camping tent be?
A camping tent should be high enough for you to stand up in without having to bend over. A good camping tent should be at least 70 inches in height. Tall campers, especially men, should go for a tent that is about 80 inches tall or is 4 inches taller than their height. We have already reviewed some of the best above in this article.
How tall is a pop-up tent?
Most pop-up tents are between 4 feet and 5 feet in height when fully erect, and there are hardly going to be tall enough to stand in. But fortunately, there is the Gazelle T4 Camping Hub Pop Up Tent with an amazing 6.5 feet in height. It is one of the tents in this review, so feel free to scroll up and read about it.
Why should you pick a tall tent over a short one?
In addition to having enough room to stand up and walk around, tall tents are usually more spacious than the shorter ones. This typically implies better air circulation. When changing clothes, many people prefer to stay upright, and short tents won't allow it. If you are a tall person, you would prefer a tall tent as it allows you to enter, exit, and stand in the tent without bending your neck.
Conclusion
Choosing the best camping tent you can stand up in should not be a big deal after going through these reviews and buying guides.  You just have to ask yourself questions like. How tall am I? How is the tent going to be transported? How many people are going to stay in a tent? In what weather conditions is the tent going to be used?
After answering these questions and matching them with the details in the above article, you will be able to make the perfect choice for you.