We may receive commissions when you buy through the links on our site. Full Disclaimer.
Suppose you are looking for a durable camping tent with enough room for your friends and family and great quality yet available at an affordable price. In that case, you need to read this Hikergarden 10 person tent review before deciding.
We think this is one of the best 10 person tents in the market at the moment. Read the full review to discover why.
Overview of the HIKERGARDEN Tent-10-Person-Camping-Tent
This
family camping tent
by Hikergarden has received many positive feedbacks on Amazon for a lot of good features that it presents.
The tent is a product of Unipros, which is one of the biggest suppliers of Walmart Canada and the first manufacturer to set up a factory inside the Cambodia camping industry. Hikergarden is one of their tent brands.  We have also reviewed their eight-person camping tent and six-person camping tent, respectively, in the past.
The tent is quite spacious. It comes with a base of 14 feet by 11 feet, which means you can fix three queen air mattresses and still have plenty of rooms. The tent's height is 6.1 ft. in the center, which is tall enough for most people to stand.
The Hikergarden 10 person tent is made to be sturdy, featuring fibreglass poles, among the tent construction's reliable options. The tent fabric is the sturdy 185T Polyester. It is a waterproof and windproof tent and comes with a detachable rainfly to keep you dry in the rain.
Furthermore, this tent is well ventilated, portable, and also comes with a carry bag. However, this won't work for backpacking because of its weight, which is over 20 lbs.
Finally, Unipros are kind enough to include some cool gears to help you enjoy your time in this tent.
Who is it for?
Although Hikergarden designed this to be a 10-person tent, for the best experience, we recommend that this unit should only be considered when the camping population is just 6-8 people. The reason behind this recommendation is to ensure comfort.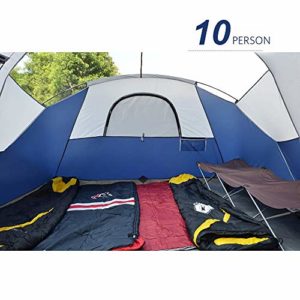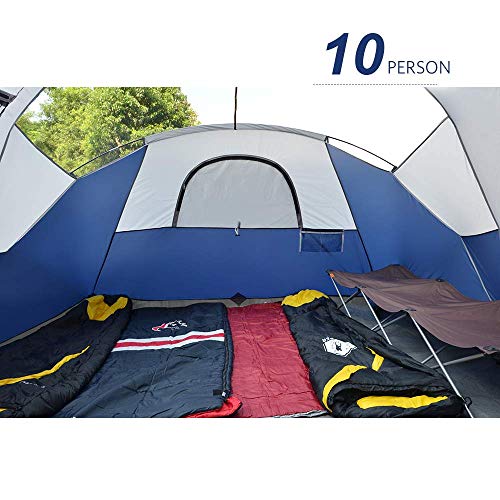 Setup and Takedown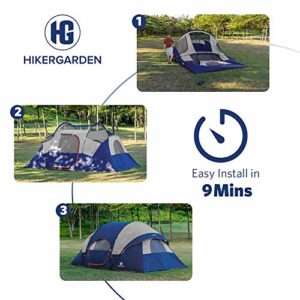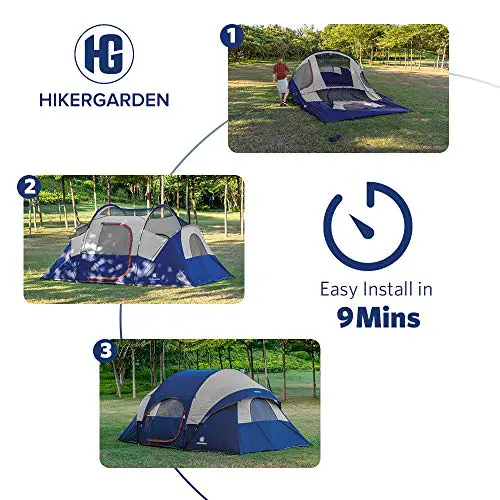 This tent is easy to set up and requires no skills at all. It should take two adults about 10-15 minutes. It comes with the instructions and every item needed, including the stakes.  However, you will have to pay attention to the color-coding of the poles.
The tent is also easy to take down.
Features
Easy Setup and Take Down: As earlier stated, it takes an average of 10-15 minutes for two adults to erect this tent after a little bit of practice fully. The tent also folds easily.
Roomy: This is a large tent and would conveniently sleep eight adults. You can have up to three queen-sized air mattresses and still have enough rooms for your other gears and move around.  It can also sleep up to 10 persons in sleeping bags.
Room Divider: The tent features a room dividing curtain, which you can use to partition the tent into separated rooms, in case you need privacy. This is extremely useful if you are camping with children or there are two different couples in the group.
Good Fabrics: It is made of 185T Polyester with a PU coating of 1000mm, which is decent for a camping tent.
Waterproof: The waterproof rating of this tent is 1000mm, and it comes with a removable rainfly, which is enough to keep water out when it dew or rains. Anyway, this is not one of the best tents for heavy rain. The tarp is waterproof as well.
Windproof: If you properly set up the stakes, this tent will hold up well in most windy conditions.  You can set it up on a beach.
Ventilation Design: It comes with one large mesh door, four mesh windows, and a mesh ceiling top to allow proper airflow while keeping bugs out of the tent. Although the windows are too high, which can frustrate the ventilation when the weather is very hot, the tent is breathable when the rainfly is removed.
2-Way Zip: This zip design makes getting in and out of the tent effortless. The zippers are sturdy, but you should be careful with the door zipper because it often gets stuck on the tent's fabric outer flap.
Portable: Despite the huge size of this tent, it only weighs about and comes with a carry bag, which makes transporting it easy.
Extra Gears: In addition to all that this tent is already offering, you will also be getting a hook for your lamp, an electrical access port, which is useful if your campground provides a power source. There is also a gear pocket and two mesh pockets to store your items.
PROS
Spacious
Waterproof and windproof
Great Ventilation System
Enough extra gear.
Affordable
Durable
It is backed by the manufacturer's support and one year warranty.
CONS
First time setup requires a little bit of practice.
The door zipper often gets stuck on the outer fabric flap of the tent.
Not for extreme weather conditions.
Verdict
This is a tent that is offering great value for the money. There are not many ten-person tents of this quality that is this affordable at the moment.
Specification
Tent Type: Family Dome-Style.
Season: 3-Season.
Capacity: 10 persons.
Floor (Base) area: 14 x 11 feet.
Height: 6.1 feet.
Weight: 20.5 lbs.
Dimensions: 168 x 132 x 74 inches.
What you will get
The Hikergarden 10 person camping tent comes with the following;
One rainfly
Five poles
18 tent stakes
One room divider curtain.
One inside-storage bag
One carry bag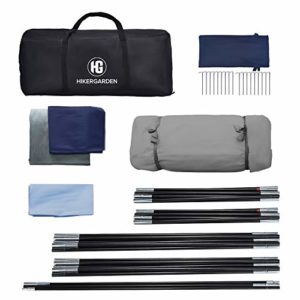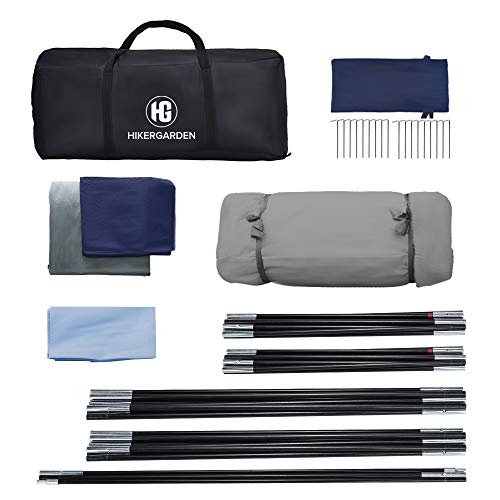 Support and Warranty
Should you encounter any issues with this tent, the manufacturer usually responds within 24 hours. And they are offering a 1 Year Warranty on this unit, which I am positive you won't need.
Conclusion of The Hikergarden 10 Person Tent Review
In the above Hikergarden 10 person tent review, we've been able to explain to you what the tent is all about. We discuss the features, who should buy it, the pros and cons, and so on. This information should be able to help you make the best decision as to whether this is a good tent for your family or not. Click on this link to buy it on Amazon