We may receive commissions when you buy through the links on our site. Full Disclaimer.
Getting out into the great outdoors with family is a fantastic idea you can ever imagine. It is an activity that leaves you with the option of spending less amount of money if you choose to stay in a camper or pitch a tent. The idea offers a considerable advantage, and it creates a beautiful outdoor experience for you and your family.
One of the biggest reasons why camping is a fantastic idea is that it keeps you away from distractions that happen around you. You'll agree with me that we all live busy lives and we hardly find time to slow down and relax. Well, camping will offer you all the time you need to relax with your family and reflect on some essential things. According to a famous quote on Lasso The Moon, "time for family camping is not spent, it is invested."
If you need to be more convinced, some of the several benefits of camping with family provide that the experience can instill some crucial life skills for children and parents. Also, the outdoor adventure with the family offers that golden avenue for discipleship or child grooming. These encourage unity, promote a healthy lifestyle, as well as contributing to a longer, and happier family life.
Well, now that you know, perhaps you are preparing to go on a camping trip with your family, be ready to experience a fantastic journey.
Here are some significant advantages of camping with family:
Top 12 Benefits of Camping with Family
1). Outdoor Camping Promotes a Healthy Lifestyle
Research reveals that spending quality time outside your home enhances your physical and mental health. Also, being relaxed in a serene environment helps you to forget the worries that exist in the world. It also improves your physical health, and make you happier than you can imagine. For the sake of clarity, outdoor camping involves some forms of exercise, which is designed to ensure that everyone is mentally and physically fit.
2). Allows Families to Unwind, and De-Stress
Research published in Mommy University reveals that there are lots of pressures in today's world; both adults and kids are affected. The site states that stress occurs right from the time spent in working towards earning good grades to meeting up with financial responsibilities to undergoing professional academic programs.
Everyone always has that sense of anxiety during the year. Camping is just a time when families comfortably relax and unwind from every stress.
This is the time when everyone keeps their phones away and other study materials and focuses on having fun with family members. At this time out, kids can play without having to worry about anything, and parents can relax or find new exciting adventures. Being able to unwind and de-stress will help to improve productivity when resuming work or school.
3). It's a Time to Engage Mind and Body
Being disconnected from electronic means of communication and aligning yourself with nature can significantly enhance mental functioning. Engaging in an outdoor, strengthen your ability in problem-solving, multi-tasking, and a general high sense of reasoning. This especially happens when parents and children are camping together.
Presently, exercise is more important than ever. Researchers claimed that one in every five children is overweight, while about thirty percent of adults are obese. To find a solution to this weight abnormality, families should enjoy some sporting activities like taking a hike and playing all manner of sports.
4). Connection with Natural Wonders
Participating in an outdoor camping activity with family offers a fantastic way to experience some natural wonders and historic sites. You can be opportune to indulge yourself with naturally attractive places like the National Park, which has landmark rocks and mountains.
You can entertain your eyes as you watch some herders with their elk and calves as they wander around the camp vicinity. Also, you will see other beautiful works of nature that will keep you dazed long after you leave the campsite. This, however, will allow your kids to learn things they never knew before.
Connectivity with the work of nature can leave a lasting memory and an enjoyable experience for the entire family.
5). Family Can Eat Food Cooked Over the Fire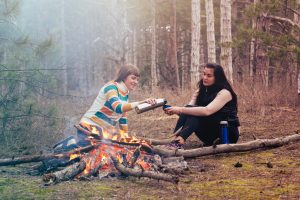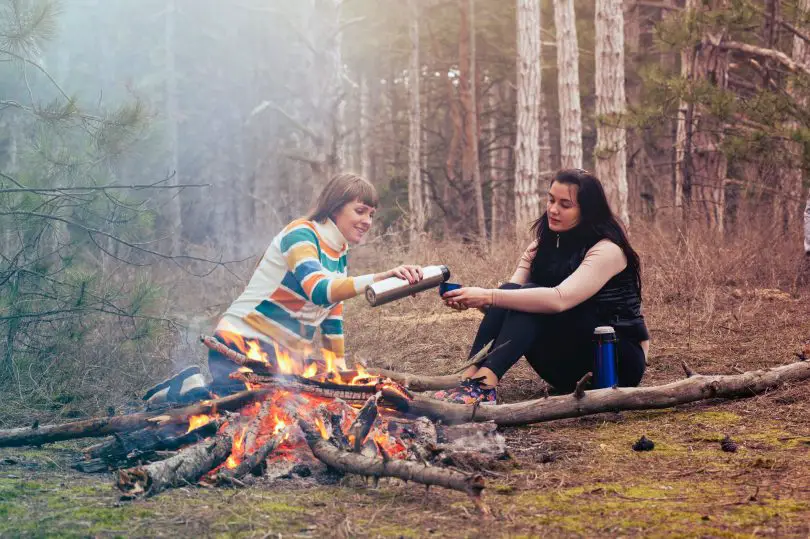 You will agree with me that there is an increased taste bud with food that is prepared over the fire; especially when they are grilled. Of course, it is very easy to cook grilled cheese over an open fire. If you feel like exploring your cooking skills at the campfire, then, this is the time to let your family create some fun food items to cook over the fire. This activity will further bring members of the family together in the spirit of merriment and relaxation.
6). It Creates Family Bonding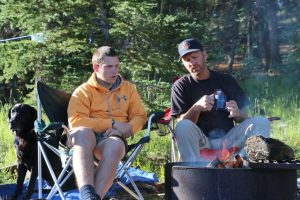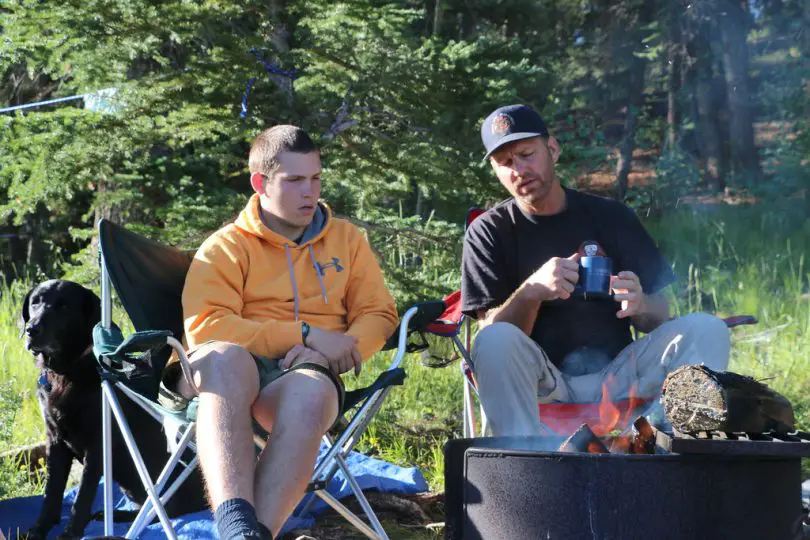 As you engage in camping activity with your family, it's essence can only be achieved when the entire family is involved. The real reason for camping is to create love and strengthen the unity in the family.
Every family member has a role to play in ensuring that a healthy bond is formed. If this is achieved, there will be love in the family, and the old strange feeling which members have for each other will be no more.
It is an undeniable fact that camping with the family is a real-time to recreate a lost bond that once existed in the family.
7). Improves Self-Awareness
There is no better way to learn more things about yourself than when you are participating in an outdoor camping adventure with the family. At first, you would be able to understand if camping suits your lifestyle or not.
Also, you will quickly discover the type of camper you are; trailer, tent, or cabin. Then, you will conclude the person you are made up of. You will know if you can put up a tent, collect firewood, and lit up a fire. Also, you'll see if you can prepare some delicacies over the fire, or even attempt a four-hour hike on the rocks. You'll undoubtedly discover that you can perform far better than you ever imagined.
8). Enhances Problem Solving Skills
Camping away from home requires a high skill level for problem-solving. This is expected of you immediately you arrive at the camping site. This includes the ability for families to raise their tent so they can stay safe and dry, collect firewood, and lit up a fire to cook. And then try to play some hide and seek games in the woods so that someone can come to find you.
There is another problem- solving skills you can engage in like kayaking, fishing, hiking, and other smart games. These exciting camping activities help to enhance your intelligence quotient in solving a plethora of problems.
9). Sufficient Fresh Air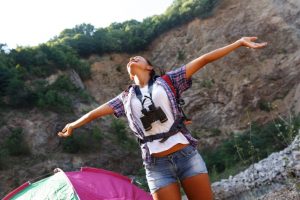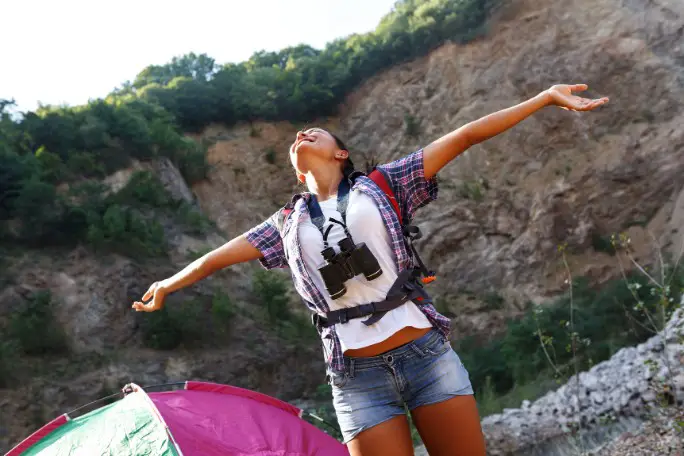 Apart from adults who experience stress on a daily basis, kids face the same challenge. As you embark on this camping trip with your family, try to offer them a full dose of activities that can help to relieve their stress.
Imagine sleeping under the stars at night and having to feel the coolness of the breeze. Being outdoor for quite a while is a fantastic way to remind us about how we can powerfully get unplugged and get connected with our loved ones.
10). You'll Have A Long – Lasting Memory
Camping with family is very adventurous and fun-filled. This is where lots of activities take place between family members. The more that you camp together as a family, the more memories you'll all create for each other. You can create a fun-filled and lasting memory with your family as you go fishing, swimming, playing all sorts of games, or even reading by campfire light.
One of the topmost benefits here is that parents get to spend much time with kids throughout these activities.  You will be sure that these activities with the family will create a lifetime memory.
11). Helps Distract from Electronic Activities
The campground is the perfect place where you can easily stay without making use of electronic devices. Most campsites are inaccessible to network connectivity for electronic devices, keeping those devices off your reach.
Adults get some relief from stress when they turn off their electronic devices. Kids also get connected with nature when they find themselves engaged in different strange activities in an environment that is far from their usual home.
12). Exposure to Scientific Ideas
Science is an embodiment of nature. During camping, kids get to learn various aspects of plant life so as not to eat poisonous fruits. Participants also get to understand how some trees and plants look. They also learn about the type of animals that feed on these plants and how they survive. This is the opportunity to know new things as you can also be opportune to learn various scientific ideas. For example, you can learn how to make long-lasting fire with a good knowledge of chemical reactions.
Read: How to Choose a Campsite – 10 Important Tips
Final Words
It is a fact that there are a plethora of benefits of camping with family, and I have taken some time to itemize them in this article.
For the families who are planning to embark on this lovely trip, it is ideal to read through these benefits again so you can be inspired to achieve results with your family.