We may receive commissions when you buy through the links on our site. Full Disclaimer.
Camping is fun, right? Yeah, it is, until you end up with frostbite and almost freeze to death in your tent. A well-heated tent will most certainly make the difference between a pleasant camping trip and a disastrous one.
No matter the season of the year, you need to make heating arrangements for your tent as the warmest day could end with a chilly night. The right tent heating ideas can keep you warm and comfortable for the duration of your camping trip.
ALSO READ: 9 Best & Safe Tent Heaters for Camping – Buying Guide
But how do you heat a tent without compromising your safety? How do you balance comfortability and safety? Here are the ten best heating options available.
10 Safe Tent Heating Ideas
1. Bring Along an Electric Tent Heater
Using a tent heater is the safest, cleanest, and most comfortable option of all. If you are staying at a campsite with access to an electricity supply, a portable electric heater will go a long way in solving your heating needs.
Electric tent heaters do not require combustion like most of the other tent heating ideas mentioned in this article. And they are stress-free. You plug the electric heater to the power outlet, and you are good to go.
Some electric heaters come with thermostats to ensure a steady temperature, so you do not get too cold or too hot. You can also get electric heaters with tip-over settings that turn off the electric heater if it falls over or gets knocked off.
2. Use a Portable Propane Gas Heater
You can get a portable propane-powered tent heater. You place the unit in your tent. A hose runs from the heater to your propane tank. You can run the heater all night long, and you'll get comfortable and warm all through.
A 16.4 ounce of propane could power some portable gas heaters for up to 7 hours. The gas heaters are flameless, efficient, and safe. They are not cumbersome to carry in any way.
You are advised to have an opening in your tent for proper ventilation. Do not let the heater come into contact with any object in your tent.
The modern propane gas heaters available are catalytic models that use both oxygen and propane for safer combustion, unlike the old models.
Some gas heaters come with an oxygen regulator that trips off the gas heater whenever the oxygen level in your tent becomes too low. Those gas heaters are safer to buy. You also get other heaters with options like thermostat regulator and rotating supply of heat.
Sale
Bestseller No. 1
Mr. Heater F232000 MH9BX Buddy...
PORTABLE HEATER: Portable propane heater designed for emergency heat, tents, campers, job sites, porches, decks, garages, tailgates, barns, sheds, ice...
HEAT SPACE: Perfect for heating enclosed spaces up to 225 square feet
PROPANE GAS: For use with propane gas; Runs off a 1-pound cylinder of propane and can connect directly to a 20 pound cylinder with optional hose and...
Bestseller No. 2
Mr. Heater F215100 MH4B Little Buddy 3800-BTU...
Indoor-safe portable propane heater for rooms up to 95 square feet. THIS UNIT IS NOT INTENDED FOR GOLF CART USE OR FOR MOTORIZED VEHICLES.
Continuous odor-free, 45-degree heating angle. Maximum Elevation (Ft) 7000 Feet. Automatic low oxygen shut-off system (ODS). Perfect solution for...
Simple on/off buttons; uses 1-pound disposable propane cylinder (not included). Run time at minimum btu and maximum btu is 5.6 hours. Do­ not­...
3. How to Heat A Tent With A Candle
Candles aren't only for romantic candle-lit dinners, you know? You can place your candles in a candle lantern to keep your tent warm. Buy a triple-candle lantern instead of a single-candle lantern, and you get triple the heat.
Light the candles and place them in the candle lantern for an hour or more before your sleep time and zip up your tent. This will ensure that some heat builds up in the tent, and it is warm enough by your bedtime.
Candle heaters serve the dual purpose of heating and lighting. The lantern holds the candles safely so they can't fall over and set fire to anything. You could buy regular candles or beeswax candles that last longer but cost more.
Alternatively, you can watch the below video to see a live experiment.
4. Don't Let Your Fire Coals Go to Waste
The leftover coals from your campfire will go a long way in heating your tent. Dig a trench in the middle of your tent. Place the hot coals in that ditch when you are going to bed. Cover the coals with sand.
The heat provided by the hot coals will heat your tent for the rest of the night. Be careful when carrying the hot coals, so you don't burn your skin or that of anyone around you.
5. Using Hot Stones As A Tent Heater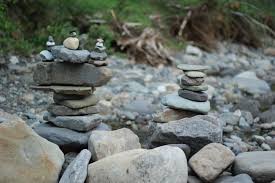 Channel the inner caveman in you and use hot stones or rocks to heat your tent. When you get to your campsite, get lots of medium-large sized stones, and place them around your campfire.
The larger the stone, the more heat it retains. Dry stones also work best as they retain more heat and take lesser time to heat up. Wet ones have the added risk of cracking or even exploding.
Don't place the stones inside the campfire as it will be challenging to bring them out of the fire. Having them around the fire will do just fine. To ensure that all sides of the stones get heated up, turn the stones around with sticks. Heat the rocks for at least an hour.
Place the heated rocks around your tent, but not too close to your sleeping bag. Do not let the heated rocks contact your skin while transporting them. Do not let the rocks come into contact with the tent as you risk melting off the tent material, depending on how strong it is.
6. Use Hot Water Bottles to Heat Your Tent
Pack along some extra water bottles with you when going camping. Then boil some water in a large pan or pot. Transfer the boiled water to the water bottles. Spread the bottles around your tent, and you are good to go.
The heating provided by the bottles could last for several hours. This is one of the safest ideas on how to heat a tent without electricity. You can place a few water bottles inside your sleeping bag for more warmth.
7. Build Your Tent Over The Remnants of your Campfire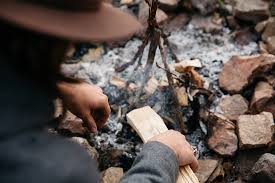 This idea works best if you have a large tent. When you douse your campfire, the remnants of the campfire like will remain warm. The remnants could keep you warm for a long time. Avoid staining your tent and personal properties with residue from the fire.
The disadvantage of this is that you will have to set up your tent later than usual. Not everyone will like the idea of setting up a tent late at night under limited lighting conditions.
8. Put your Creativity to Work by Building Your DIY Tent Heater
Showcase your creativity and impress your fellow campers by making your DIY tent heater. There are various DIY ideas that you can put to use. Here is one of them.
The Candle/Flowerpot Tent Heater
Bring some candles along with you to the campsite
Take about four or more of these candles and light them
Place the lit candles under a small flowerpot
Place a larger flowerpot over the small one. The large pot should have a hole on top
The air between the two pots will get heated by the candles
The heated air will escape through the hole in the large flowerpot and the space under the flowerpot, before circulating within the tent
There, you go! Now you have your very own DIY tent heater
You can check this website for a more thorough description of this.
9. Line Up Your Tent with Thermal Blankets to Reflect Heat in the Tent Back to You
You probably heard about heat reflection in your high school science class, and you got bored thinking you might not need it at all. Well, now is the time to put that knowledge into practical use.
Get some thermal or solar blankets and line them up around your tent using duct tape. When the blankets are lined up in your tent, they reflect the available heat in the tent back at you. The heat source could be your body heat or that of an external source like an electric heater.
The blankets are so helpful that they could reflect 90% of your body heat at you. You can also place them under your sleeping bag.
10. Warm Yourself Up By Cooking in a Camping Stove
Why should you prepare yourself a hearty meal and let all that cooking heat go to waste while you sleep in a cold tent?  Get a camping stove that serves the dual purpose of cooking and heating.
After cooking yourself a meal, you can leave the stove on and let it heat the tent. There should be an opening in the tent for the circulation of air.
ALSO READ: Best Packing List for Camping in a Tent
Conclusion
The tent heating ideas mentioned above will keep you safe, warm, and snug during your next camping trip. You can use a DIY tent heater, hot stones, hot water bottles, and other ideas suggested here.
Moderation is key here as too much heat will make you hot and prevent you from enjoying your sleep. The weather should also determine how much effort you put into keeping yourself warm.
Regardless of whatever heating idea you choose to use, put safety first. Do not take any risk at all. Do not make any unnecessary improvisation if you aren't sure of how safe your idea could be. If you aren't a DIY person, a ready-made heater should be adequate for your heating needs.
If you are the type that rolls a lot when sleeping, avoid placing tent heaters close to your sleeping area.