We may receive commissions when you buy through the links on our site. Full Disclaimer.
If you have a Dutch oven, you must be aware that there are many recipes you can try out in your sensation pot. Some of these take a lot of time, while some are quick to make. 
In this post, we will discuss some of the quick ones.
ALSO SEE: 
Quick Dutch Oven Recipes for Camping
1. Brian's Bourbon Chili

Ingredients you'll need for this include:
1 1/4 lb. ground beef chuck

1 c. bourbon

4 clove garlic

1 tsp. dried oregano

1/2 tsp. dried sage

3 tbsp. olive oil

1 medium yellow onion

3 bell peppers (1 each red, green, and orange)

1/2 jalapeño pepper

1/4 c. orange juice

1/2 stick unsalted butter (preferably Irish, such as Kerrygold)

1 tbsp. chili powder

1/2 tsp. ground chipotle pepper

1/4 tsp. cayenne pepper

3/4 tsp. salt

1 can crushed tomatoes

1 can of black beans

1 can garbanzo beans

1/4 c. sour cream

3 fresh mint leaves

4 oz. Cheddar

Tortilla chips
Follow the below instructions to prepare:
Add the beef, 1/4 cup bourbon, half the garlic, oregano, and sage to your dutch oven.

Cook for 6 to 7 minutes over medium heat. Break the steak with a wooden spoon as it browns.

Transfer the beef mixture to a medium bowl with a slotted spoon and set aside; discard any remaining liquids.

Heat the olive oil in the same pot over high heat.

Add onion, bell peppers, jalapeno, orange juice, butter, and remaining garlic. Cook and stir until the veggies begin to soften. It should take about 10 minutes.

Add chili powder, chipotle, cayenne, and salt. Cook, stirring regularly, for 1 minute.

Reduce heat to medium and add the remaining bourbon. Cook until the liquid is reduced by half.

Add the tomatoes and bring the mixture to a boil.

Add the beans and the beef and add up to 1 cup of water if the mixture is dry.

Reduce heat to medium-low and cook for 1 hour with the oven partially covered.

Mix sour cream and mint in a small bowl.

Serve chili in bowls with roughly 1 tablespoon Cheddar and 2 teaspoons mint sour cream.

Toss with tortilla chips before serving
SEE ALSO:
10 Amazing Kid Friendly Camping Meals
6 Camp Kitchen Tips for Effective Cooking While Camping
8 Best Camping Kitchens to Stay Flawlessly Organized in 2021
2. Seafood and Chorizo Paella with Bell Peppers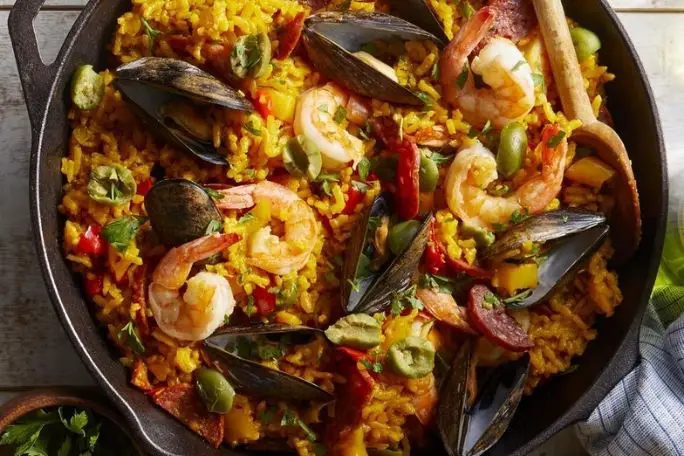 Ingredients you'll need for this include:
4 tbsp. olive oil, divided

1 lb. large, peeled, and deveined shrimp

8 oz. Spanish chorizo, sliced.

1 large onion, chopped

Two large red or yellow bell peppers quartered lengthwise then cut into 1/2-inch slices.

2 tsp. saffron threads, finely crushed

Kosher salt and freshly ground black pepper

Three cloves garlic, chopped.

Two c. short-grain rice, such as bomba or Arborio

1 tsp. smoked paprika

1/2 c. dry white wine

Four c. chicken stock

2 tsp. lemon zest, plus six tablespoons juice and wedges for serving, divided

16 mussels (about 3/4 pound)

1/2 c. pitted green olives, cracked

1/2 c. fresh flat-leaf parsley, roughly chopped
Follow the below instructions to prepare:
Add one tablespoon of oil and cook medium-high heat. Cook for 2 to 4 minutes until shrimp are browned, then transfer to a dish.

Reduce the heat to a low setting and add the chorizo and 1 tablespoon of oil. Cook, stirring regularly until chorizo begins to crisp and release its oils. Put half of the chorizo on a platter.

Raise the temperature to be medium and add the onion, bell pepper, saffron, and the remaining two tablespoons of oil in a mixing bowl. Also, add salt & pepper to taste.

Cook, occasionally stirring, for 5 to 6 minutes, and add garlic. Continue cooking until garlic is aromatic.

Add the rice and paprika to a mixing bowl. Cook and constantly stir until rice is coated.

Pour in the wine and cook until almost evaporated.

Add three tablespoons of lemon juice and stock. Cook until the rice begins to absorb liquid.

Reduce heat to low, cover, and cook for 18 to 20 minutes, or until most of the liquid has been absorbed.

Place the shrimp and mussels with the hinge tips down. Cover and cook for 5 to 6 minutes, or until shrimp turn pink, mussels open, and rice is soft.

Remove from the fire and stir in the olives, chorizo, and the remaining three tablespoons of lemon juice.

Allow for a 5-minute rest period. Sprinkle with parsley and lemon zest and parsley

Place lemon slices on the side and serve