We may receive commissions when you buy through the links on our site. Full Disclaimer.
A bear canister is one of the essential things you will need if you are going backpacking or sightseeing. You look forward to experiencing the culture, exploring the nature adventure and enjoying the mountains, lakes, ski resorts, national parks, and much more.
However, you also need to keep your food and other items safe from wild animals. You need to know how to use a bear canister to safeguard your foods and odorous items from bears when camping.  But, before talking about that, we need to know what a bear canister is.
What is a Bear Canister?
A bear canister is a container where you store items to make it safe from bears and other animals. It comes in handy while you are backpacking.  It is cylindrical and made of hard plastic.
The conventional method of keeping your food items in a bag and hanging it on a tree no longer works. Bears and other animals have also discovered campers, hikers and backpackers "food hideout" and can make away with it.
Why Do I Need a Bear Canister?
You may be wondering if a bear canister is needed since you can pack your food and toiletries in your backpack.  Backpacks are not odour-proof, which is why you obviously, will still need a bear canister.
Bears can easily detect human foods around them. Harold Werner, a retired wildlife biologist, said: "once bears get introduced to human food, they get hooked."   Bears become aggressive in their attempt to get access to human food, and it is usually not an interesting situation.
So, make sure you don't have anything that can attract animals to you around your camp.  You can also contact the Forest Service of the area you are visiting to know if you will need a bear canister or not and canisters that are approved in the area.
How to Use a Bear Canister
Carrying a bear canister on your trip is not enough. Knowing how to use a bear canister will help you to enjoy its full purpose and prevent avoidable errors.
Keep every scent item in the canister: Put every food and smell able like toiletries, insect repellent, medications, and perfume inside your bear canister and keep it locked. Always remember to close your canister properly – this is very important. Leaving your canister opened is the same as not having one and exposing your food to bears.
Don't keep your bear canister near your camp: Putting your items inside a bear canister does not mean you can keep it within the campsite, it is very risky. It can still attract bears or other animals to you. Also, don't keep it around your tent; not all canisters are odour-proof. The best place for your bear canister is 100 feet away from where you camp.
Don't put your bear canister near waterfalls and lakes: Do not keep it around rivers or lakes or where it will be easy for bears to tuck it away. You can hide your canister behind a rock or between rocks. Keep it in a place where bears are not likely to notice it.
Turn your bear canister upside:  When you are about to sleep or if it is raining, turn the canister upside to prevent rain from entering it.
Take dirty and used items out of your canister to free up more space: Don't keep used toiletries, finished food packages inside your canister. You must throw them away far from your camp, or you burn them.
Clean your bear canister after each use: You may have touched your canister with food or scented objects; this can attract a bear to where it is. Use an alcohol pad or non-scented wipe to clean the canister and remove any attractive odour.
It is also recommended that you put metal items pots or frying pan on your canister to raise an alarm if any animal approach it where it is.
How to Pack a Bear Canister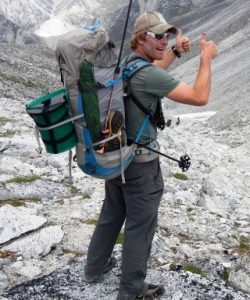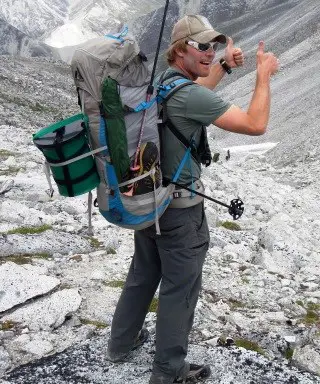 Going on a trip with a canister seems extra weight for most backpackers. Packing a canister goes beyond tossing everything without proper arrangement. You may end up not having enough space for your food and toiletries.
Choose the right Bear Canister
You are going on a trip, and you want to enjoy every bit of it without the burden of excess. Canisters are in various sizes which allows you to select the one that is most suitable for you.
You need to select a canister the fits properly into your pack. It should be well-positioned in your pack such that it is near your shoulder and close to your back, not up against the back of your head. Also, your canister should be able to contain all your edibles and scent items.
Pack Only What You Will Need
Trying to pack more than you can ever need for your trip may result in your canister not having enough space to contain everything or too heavy a load for you to carry. Reduce your items to what you need. Besides that, it is better to go for smaller sizes of your needs like your toiletries, cheese, butter, milk.
Puff Out the Air and Repackage
Some of the food items you will take along are packed inside polythene bags. Polythene bags tend to expand due to air pressure. While you are enjoying hiking, your food package swells due to the air pressure, taking up more space. You can avoid that by using a pin to poke the nylon bag to let the air out and reduce the volume.
Likewise, some foods are packed inside boxes that will consume space, remove the boxes and repackage to fit into your canister conveniently. You may go for a vacuum sealer if you are going on a long trip.
Plan Your Trip and Group Your Food
Plan how you are going to spend each day and what you will eat per day. You can pair breakfasts, lunches, and dinners for each day. Food or snacks that you will need each day should be packed at the top of the canister.
Where Bear Canisters Are Required
When you are planning your trip to the backcountry, you need to know the areas where canisters are required by law. Using a canister varies per backcountry. Backcountries where land management agency requires users to carry a canister include:
Yosemite National Park
Sequoia & Kings Canyon National Park
Sierra National Forest
Humboldt-Toiyabe National Forest
Lassen Volcanic National Park
Inyo National Forest
Stanislaus National Forest
North Cascades National Park
READ: How to Choose a Campsite
What to Consider When Choosing a Bear Canister
There are things to consider when choosing a bear canister for your trip.
Volume: Go for a canister that is spacious enough to contain your food and scented items for the number of days you will spend. An ideal unit should have about 10 litres of storage space.
Mouth Opening: A canister with a big mouth is better to prevent wasting time to find a food item.
Weight: Even though you need a spacious unit, you need to consider the weight to avoid carrying a heavy load. A unit that weighs about 3lbs is OK.
How to open: You wouldn't want to get to the backcountry and discover that you locked up to your food inside the canister. Be sure you know how to open it before you embark on your trip. You can practice doing this many times.
Approval: Only go for a bear canister that is approved in the area you are visiting. Not every canister in the market meets the requirements of the agency of the backcountry you want to go to.
Finally, some of the top bear canisters you can choose from include:
Conclusion
Make it difficult for a bear to touch your food and other items when you go camping. Bears cannot resist human foods, and when campers and hikers are careless with their food package, they had a difficult time with bears contending with them for their food. It is a risky situation.
You should remember to keep your canister locked always. Furthermore, try to keep the canister away from your camp and be sure not to leave food remnants close. Bears can trace that towards your campsite. Now that you know how to use a bear canister, it will help you to keep your items safe.
Being armed with this information will help on your next trip to the backcountry. You know which bear canister to buy and how to pack it.