We may receive commissions when you buy through the links on our site. Full Disclaimer.
As you prepare for your next backpacking trip, you should ensure that you pack up everything you would need. These may include your clothes, toiletries, sandals, water bottle, headlamps, and others. One thing you should not forget is to get a satellite phone.
Getting the best satellite phone for backpacking is vital if you care about your outdoor safety. These devices were made to go where your regular cell phones cannot go and keep you connected even in the most secluded areas. You may be wondering how it works.
How Do Satellite Phones Work?
Satellite phones make use of different services that allows you to send and receive calls and SMS. Just like your cell phones, you need to purchase airtime to make use of them. You will get a phone number also, and you can choose between postpaid plans or prepaid ones with each having its pros and cons.
What you should know is that the cost of airtime for satellite phones is far more expensive than that of your cell phone so you should expect to spend more.
The most preferred are prepaid plans where you purchase several units and use them at will. The con of this is that the units get to expire after a certain period. Postpaid, on the other hand, can be more expensive, you might use more than your budget without even knowing.
Which Satellite Phone to buy?
You can purchase these devices from various stores, both online and offline but, which is the ideal one to go for? I'll help you decide by showing you some of the best available satellite phones and their respective stand-out features.
Table could not be displayed.
6 Best Backpacking Satellite Phones of 2021
The Best Overall – Iridium 9575 Extreme Satellite Phone
The 9575 Extreme Satellite Phone by the Iridium manufacturers is a top-notch device that can keep you connected anytime and anywhere you are. This device was made to be easy to use with outstanding voice quality.
This satellite phone gives you access to voice and SMS services so you can send and receive calls and short messages. Data access is also available so you can access the internet and send relevant emails. The phone also has customizable GPS for easy tracking and an emergency SOS. You can use this device as a Wi-Fi hotspot as it features the Iridium AxcessPoint.
The military-grade durability build makes this device sturdy. It is dustproof and water-resistant, so none of these elements gets through it. Also, it is shockproof with a weather-resistant lighted keypad. You get up to 4 hours of talk time and 30 hours of standby on a full charge. The battery it uses is a lithium-ion one and included in the package is a USB cable for charging.
The Iridium 9575 Extreme Satellite Phone is lightweight and was built with quality materials that make it durable. It acts as life insurance is an ideal device for anyone who needs a satellite phone as it sounds very clear and has good coverage.
PROS
Military-grade durable
Lightweight
Dust and water-resistant
Shockproof
GPS tracking
Can be used as Wi-Fi Hotspot
Lighted keypad
Good battery life
The Best for Portability – Globalstar GSP-1700 Satellite Phone
If you need a very portable satellite phone, the
Globalstar GSP-1700 satellite phone
might be the right device for you. It is a compact-sized phone with a lightweight build, the lightest to be produced by Globalstar.
This phone allows you to communicate with other people easily and it offers good voice quality. With it, you can send and receive calls and voice mails. Accessing the internet is also possible, but you would need to get the Globalstar Data Kit separately. This kit allows you to send emails conveniently, and it has reasonable data speed.
The phone has a lighted keypad, which makes it possible for one to use it with ease even at night. Its impressive backlit color display makes the screen viewable during the daytime.
Battery life is good; it lasts up to 36 hours on standby and gives you up to 4 hours of talk time. The battery charges with a proprietary charger, you cannot charge it via USB.
You can carry this phone around with ease due to it being lightweight. It is worth purchasing not minding the few cons it has.
PROS
Portable
Lightweight
Voice and data access
Lighted keypad
Backlit color display
Good battery life
CONS
Kit for data sold separately
Poor customer service
The Best For Network Coverage –  Inmarsat IsatPhone 2.1 Satellite Phone
The Inmarsat brand is a renowned one when it comes to satellite devices. This IsatPhone 2.1 satellite phone is one that provides you with network coverage almost anywhere in the world with 3satellites positioned in the air.
The phone uses a prepaid SIM and allows you to make calls and send short messages conveniently. You get 100 units that are valid for 90 days, and you can easily buy more units by visiting Satellite Phone Store. The units charged for sending calls and SMS are relatively low, and you can use this device to track locations via GPS without any roaming charge.
This satellite phone makes use of a lithium battery that is rechargeable and includes a charger to charge it. The battery lasts for up to 8 hours for talk time and up to 160 hours on standby. You also get some other useful accessories and a start guide to direct you on how to use the phone.
Another essential feature of this phone is its resistance to dust and moisture; this makes it durable and long-lasting. It is also shock-resistant, so it is a safe-to-use device.
With the Inmarsat IsatPhone 2.1 Satellite Phone you get outstanding network coverage as each of its three satellites covers one-third of the earth. It is an ideal satellite phone if you are traveling very far.
PROS
Global network coverage
Durable
Dust and moisture resistant
Shock resistant
Good battery life
Comes with accessories
GPS tracking
No roaming charges
CONS
Not ideal for data usage
Units expire
The Best For Battery Life – Thuraya XT-LITE Satellite Phone
The Thuraya XT-LITE Satellite Phone is a device for power with a long-lasting battery. It has a sturdy and very lightweight construction, which makes it easy to carry along.
Sending calls and SMSes are possible with this satellite phone, and it has a dual GSM feature for better communication. You would need to get a Thuraya SIM card for it to function. The device is easy to use as it features 12 programmable languages and comes with a user manual with useful instructions. There is a call log where you can view your call history, and it also supports speed dialing.
The Thuraya XT-LITE satellite phone makes use of a rechargeable battery, and you get about 80 hours of standby time and about 6 hours of talk time. Charging can be done using the included data cable.
The major downside of this product is that it offers no coverage in the US, so it cannot be used there.
PROS
Long-lasting battery
Sturdy
Lightweight
Easy to use
Dual GSM
The Best For Ease of Use – Iridium 9555 Satellite Phone
Your satellite phone should not be difficult to use. It should be straightforward so you can reach out to others quickly in emergency cases. The Iridium brand knows that which is why they made available this easy-to-use satellite phone.
The phone was built with quality materials, so it is a durable one and of the right size. It is a hand-friendly device, has an integrated speakerphone with an improved text message and email services for faster communication. The user interface is pretty simple and easy for anyone to comprehend. You get a user guide and a start guide with instructions on how to operate the phone.
The phone comes with a hands-free headset which, when used, makes communication more convenient. It also includes a Data CD-Rom that contains its software; you can install it on your PC.
This phone is powered by a rechargeable lithium-ion battery and comes with a DC car charger and an AC travel charger; it cannot be charged with a USB. Battery life is long; you have about 25 hours of standby time and 4 hours of talk time.
The Iridium 9555 Satellite phone is reliable, compact size and is very easy to use, which is why I recommended it for purchase.
PROS
Easy to use
Lightweight
Durable
Improved SMS and email service
Good sound quality
Good battery life
Includes hands-free headset
The Best For Budget – Globalstar GSP-1600 Satellite Phone
No doubt, satellite phones are costly, and not everyone will be willing to spend such high amounts. If you are in such a category, you can go for the Globalstar GSP-1600 Satellite Phone t is a very affordable one.
With 99 Memory locations, you can send and receive voice mails and SMSs with this phone with relatively low charges. You can also access the internet and send emails; data speed is about 9.6 kilobytes per second, which is quite fast. No SIM card is needed; you need to register it with Globalstar.
The device features a battery meter and a signal strength indicator on the screen. You get a notification when you receive a voice mail, and there is a call log for you to view your call history.
The phone uses a rechargeable lithium-ion battery and comes with a wall charger for charging. A user manual is also included which directs you on how to use the phone. On a full charge, it can last for up to 19 hours on standby and close to 4 hours of talk time; the battery life is impressive. This phone will make an excellent buy if you are cost-conscious.
PROS
Affordable
Lightweight
Durable material
Easy to use
Access to voice and data
Great voice quality
Good data speed
Good battery life
Choosing the Best Satellite Phone for Backpacking – Buyer's Guide
Looking to buy a satellite phone for your backpacking travel? This guide will help you get the best one for you.
First of all, what are satellite phones? These are devices that allow you to communicate with others. They connect to orbiting satellites and send/receive calls and short messages by radio. Being connected to satellites makes them functional almost anywhere on earth as satellites provide broad coverage.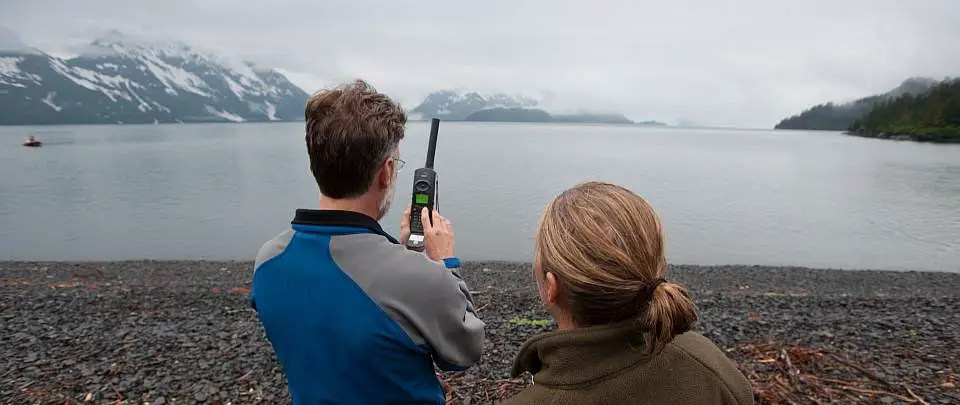 Satellite phones are essential for outdoor trips such as backpacking which is why I recommended that you get the best one. Doing that might not be so easy if you are not properly guided. So, let's look at some of the things you have to consider while purchasing a satellite phone to help you choose;
Durability
This has to do with the construction and build of the device. Since backpacking is an outdoor activity, you will need a device that is sturdy enough to withstand outdoor elements such as the weather, dust, and moisture. An ideal device I would recommend for durability is the Iridium 9575 Extreme Satellite Phone.
Portability
For your trip, you need something as portable as possible. This has to do with the size and weight of the device. A compact and lightweight device like the Globalstar GSP-1700 Satellite Phone is always the best to go for as you will be able to carry it around conveniently.
Ease of Use
A satellite phone is meant for quick communication mainly in times of emergency. If the device is complex to operate, you won't be able to communicate as quickly as you should. So, go for a unit that is easy to operate just like the Iridium 9555 Satellite Phone is. Most of these satellite phones come with a user guide, ensure you go through it before setting out on your trip.
Power/Battery
A satellite phone with a lasting battery is the best to go for any time. You won't have so much time to charge when out so, it will be a good thing if your satellite phone can last you for a good number of hours both for talk time and on standby. For this feature, I would recommend the Thuraya XT-LITE Satellite Phone or the Inmarsat IsatPhone 2.1 Satellite Phone.
Network Coverage
The network coverage of a satellite phone is a significant factor to consider. Not all satellite phones have good network coverage; some only work in a particular region and would be impossible to use in others. When purchasing a satellite phone, check to make sure that the device's network is available at your intended destination. You can always go for a satellite phone with global network coverage like the Inmarsat IsatPhone 2.1 Satellite Phone.
Additional Features
There are some other features that some satellite phones have that may be of advantage during your trip. Some of these features include GPS tracking, Wi-Fi hotspot, SOS, data access, etc. If any of these features are essential to you, make sure to check for them before purchasing. The Inmarsat IsatPhone 2.1 Satellite Phone is an example of such a device.
Cost
This should be the last thing to consider. After picking out a few satellite phones that meet your considerations, you can now compare their sizes and go for the one that meets your budget. For your information, the cost of the majority of quality satellite phones is on the high side. So if price matters most to you; you can consider getting the Globalstar GSP-1600 Satellite Phone.
Best Satellite Phones For Backpacking – FAQ
Q: Which satellite phone is the best?
A: There is no one best satellite one as this mainly depends on user preference. However, I would recommend the Globalstar GSP-1600 Satellite Phone; it is a quality phone with exceptional features.
Q: Can satellite phones work anywhere?
A: Yes, these devices can be used anywhere, even in the most remote regions. It is still crucial that you check for the regional coverage of a satellite device before purchasing as some might have restrictions.
Q: Can satellite phones be traced?
A: Yes, satellite phones can be traced if they have an in-built GPS. Some of the above-listed satellite phones come with this feature.
Q: How much does it cost to rent a satellite phone?
A: Renting a satellite phone attracts weekly costs. The amount depends on the brand you are renting, but generally, the amount is usually little. You are likely to pay $25 – $30 weekly for it.
Q: Can I use my iPhone like a satellite phone?
A: Some mobile applications claim to make this possible so it may be possible. However, bear in mind that it will not be as functional as a real satellite phone.
Q: Why are satellite phones so expensive?
A: The main reason why satellite phones tend to be so costly is that it is expensive to build and set up a satellite. Satellite networks cost millions to billions of dollars to build and run.
Conclusion
As you set out for backpacking, make sure you take a satellite phone along with you – it can be a lifesaver. By reading this review, I hope you would find it easy in getting the best one.
More Thoughts
Are These Phones Necessary for Backpacking?
You might be wondering if getting a satellite phone is something you should do as you prepare for your next backpacking trip. Well, I would give the answer to be yes, and I will be telling you why.
Satellite phones are way different from cellular phones; they work without cell towers and can be used almost anywhere in the world. These satellite phones use orbiting satellites positioned in the air to connect to other phones by radio. They were made primarily for safety and security.
When out on your trip, communication should be of utmost importance to you in case you get into an unfriendly situation and need help. If you are backpacking in a remote region, you certainly cannot use your cellphone because it will have no or minimal network signal there. But with a satellite phone, you can get coverage in such regions and be able to communicate with others comfortably.
Satellite phones allow you to communicate in different ways as you can make calls and also send short messages. Some also provide data service so you can make use of the internet to send emails.
Also, satellite phones are built to be sturdy; they can withstand different weather and temperatures. No matter the condition of the area you are in, they would hold up for use.
5 Reasons to Get a Satellite Phone for Your Next Adventure
Still not convinced that you need a satellite phone for your next trip, below are five reasons why you really should get one;
Secure connection; the technology used by satellite phones allows you to keep a stable connection while on your backpacking trip. These devices connect with orbiting satellites so expect to have strong signals and fewer network breaks.
Sturdiness; the build and construction of satellite phones make these devices very sturdy. A satellite phone will last more than a regular cell phone, and these devices are resistant to harmful outdoor elements.
Safety and security; satellite phones are ideal devices for safety as they were made for accessible communication during emergency cases. Wherever you are, you can easily place a call to get help when you need it.
Wide coverage; you can use a satellite phone almost anywhere in the world –this proves how extensive their coverage is. Your regular cell phone will not work in certain remote regions; meanwhile, a satellite phone will work effectively.
Easy to use; satellite phones are easier to use than regular cell phones. They have a user-friendly interface and allow you to communicate efficiently. For some satellite phones, you can send an SOS with just the push of a button.
What is your take on buying a satellite phone for backpacking? Do you think they are really necessary? Don't hesitate to share your opinion in the comments below!