We may receive commissions when you buy through the links on our site. Full Disclaimer.
I'm sure you can agree that Leatherman multi-tools are the best ones out there. However, in this post, you will discover the best Leatherman for camping.
Knowing what features are essential is the key to finding the perfect multi-tool. You have to be informed of the options available in the market before you can make a decision.
Fortunately, we're here to assist you. When selecting the a multi tool for camping, you have to watch out for these features:
It's all about what the multi-tool offers. A good multi-tool can have anywhere between 5 to 20 tools. It must include essential tools such as a knife, screwdriver, and pliers.
You may expect multi-tools to be heavy since they feature so many tools. But, the best option to consider must be lightweight. Go for choices that weigh less than 15 ounces (about 1 lb).
Your Multi-tool won't last for long if it doesn't feature quality materials. Steel and aluminum are the most common materials for multi-tools. Stainless steel is the best material that is very durable.
We did some research to help you select the best Leatherman for camping. Below are our top picks:
LEATHERMAN Rebar Multitool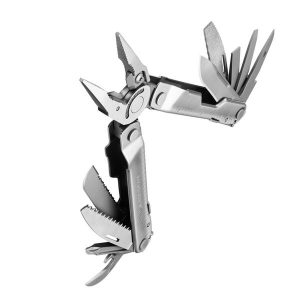 The Rebar is a favorite multi-tool for many campers. It's one of the first Leatherman products to feature removable wire cutters. Also, it's a very sturdy multi-tool due to its 100% stainless steel construction.
Rebar multi-tool is available in stainless steel, black, or coyote tan color. It is ergonomic and weighs just 6.7 ounces. And its design is slimmer than most other Leatherman products.
Tim Leatherman's original PST inspired this multi-tool. Hence, it's somewhat an upgrade of the Leatherman Collector's Edition PST.
The sturdiness of the Leatherman Rebar Multitool is on another level. It's also versatile as you get 17 tools, including knives, pliers, screwdrivers, wire cutters, an electrical crimper, a wire stripper, bottle and can openers, a file, a saw, an awl, and a ruler.
It's convenient to use thanks to the lock feature. In addition, you get the Leatherman nylon sheath when you buy this multi-tool. And you also get a whopping 25 years warranty.
PROS
17 tools
Color variety
Removable wire cutters
Free nylon
Ergonomic design
CONS
No external tool
No scissors
LEATHERMAN Signal Multitool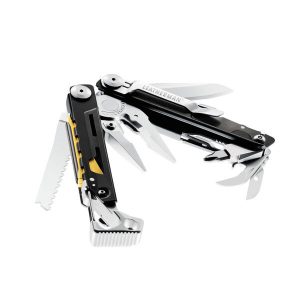 The Leatherman Signal Multitool is exclusively for outdoor use. It's no doubt one of the best Leatherman multi-tools for camping.
This is a relatively small tool at 4.5 inches. Nevertheless, it comes with all the tools you'll need, with a total of 19 instruments. The multi-tool is very easy to use with the one-hand access design.
Tools you get with this Leatherman multitool include wire cutters, pliers, saw, knife, hammer, can & bottle openers, and a Diamond-coated sharpener, among others. Notably, it features a fire starter and energy whistle as extras. You can easily place the multi-tool in your pocket or backpack for quick reach. It features a clip and carabiner that keeps it in place.
All the tools have the locking feature. This means you can use any conveniently without another getting in the way. Also, the one-hand access design applies to all tools, including those you can't access from the outside.
The Leatherman Signal Multi-tool is very light with just 8 ounces weight.
It's made from stainless steel with a black & silver color finish. Customers rated this product for its durability. It's a multi-tool that'll last a lifetime, and the Leatherman whopping 25-year warranty backs it.
PROS
19 tools
One-hand access design
Durable
25-year warranty
Locking feature
LEATHERMAN Wave Plus Multitool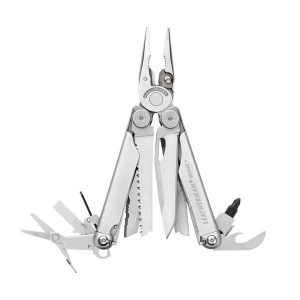 The Wave Multitool is one of the most popular Leatherman multi-tools. This product (Wave Plus) is a new upgrade to the renowned model.
The cardinal addition is the premium replaceable wire cutters. With such cutters, this Leatherman multitool is ready for anything and can handle the most complex jobs.
You get a total of 18 tools when you buy the Leatherman Wave Plus Multitool. These include pliers, wire strippers, knives, saw, spring-action scissors, ruler, can & bottle openers, files, and screwdrivers. This multi-tool features a compact design which makes it easy to use.
It's made with stainless steel material and is just 4 inches long. You can use one hand to open and use it. You can cut confidently with the Leatherman Wave Plus Multitool. And lock any blade that is not in use so they don't interfere.
It's a very versatile product and most customers attested to this.
We loved how the wire cutters were replaceable. You can order new wire cutters from Leatherman if yours goes bad. You save money on buying a new camping multi tool. This product is perfect for camping with just 8.5 ounces weight.
You can purchase it in black or silver color. This product doesn't miss the Leatherman 25-year warranty.
PROS
18 tools
Replaceable wire cutters
One-hand opening
Locking blades
25-year warranty
CONS
The coating comes off for the black variant
High cost
LEATHERMAN Wingman Multitool
This is a 6.9 ounces multi-tool. It's produced with stainless steel and is an all-around multi-tool. You can use it outdoors while camping or at home.
The Leatherman Wingman Multitool comes with 14 indispensable tools. The scissors and the spring-action pliers are very commendable.
Other tools featured include a knife, screwdrivers, wire cutters, wire stripper, package opener, bottle and can openers, a file, and a ruler.
There's about an instrument for every task. Some tools are outside-accessible, so you don't always have to open the multi-tool. You get a free Leatherman nylon sheath when you buy this product.
It's a good option for the best Leatherman for camping if you need such extras.
The Leatherman Wingman is a handy tool not because of the small size alone but also the removable pocket clip. You can place it within quick reach.
It carries the Leatherman 25-year warranty. It also features a one-hand opening design and locking blade.
We love this product for its ergonomic design and sturdiness. The multi-tool comes in a plain stainless steel color.
PROS
14 tools
Removable pocket clip
One-hand operation
Sturdy
25-year warranty
CONS
The pliers are slow to open
Very short file/ruler
LEATHERMAN Surge Multitool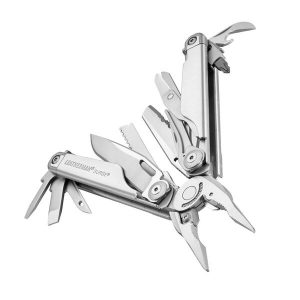 The Leatherman Surge Multitool is the most versatile product on this list. It's another multi-tool with replaceable wire cutters. And it also features full-size knife blades and XL scissors.
In total, you get 21 massive tools with this heavy-duty multi-tool. It was built to handle very tough jobs and is durable enough to last a lifetime.
The 21 tools include needle nose pliers, regular pliers, wire cutters, hard-wire cutters, standard-wire cutters, electrical crimper, wire stripper, and a 420HC knife. All tools have the locking feature for safe and effective usage.
It is our overall best Leatherman multi-tool for camping for the overwhelming functions.
Notably, there's a Lanyard ring which is helpful for easy access. The Leatherman Surge Heavy Duty Multitool is still lightweight despite having 21 tools. It weighs just 12.2 ounces with a 4.5 inches length. You can purchase the tool in black or stainless steel color.
You'll love this product if you need extras. It comes with the Phillips #1-2 & 3/16″ Screwdriver as included bits. If you buy the stainless steel variant, you get the premium nylon sheath for free. The black variant comes with the Molle Sheath.
PROS
21 tools
Replaceable wire cutters
Lanyard ring
Included bits
Free nylon/molle sheath
CONS
Somewhat heavy
The coating comes off for the black variant
LEATHERMAN Charge Plus TTi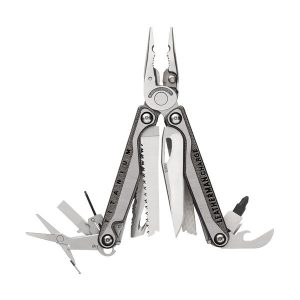 This is an upgraded version of the original Leatherman Charge Multitool. The upgrade featured replaceable wire cutters and premium materials.
This is a sturdy multi-tool, thanks to the stainless steel construction. And the added titanium makes it even stronger and more durable. It weighs about 9 ounces and is 4 inches long.
The Leatherman Charge Plus Titanium comes with a total of 19 tools. These include needle-nose pliers, an electrical crimper, wire stripper, S30V knife, and 420HC Serrated knife, etc.
It comes with a quick-release Lanyard ring. The quick-release feature makes it easy to attach and detach from a Lanyard.
You can wear the Charge Plus Multitool in your pocket or belt using the replaceable pocket clip.
This is a piece of supreme craftsmanship. It comes with a free nylon sheath upon purchase and is finished with stainless steel color.
Like other Leatherman multi-tools for camping in this list, the Charge Plus multi-tool comes with a 25-year warranty. Also, there are tools accessible when the tool is folded, and you can use the multi-tool with one hand.
PROS
19 tools
Titanium and steel construction
Replaceable wire cutters
Quick-release lanyard ring
Free nylon sheath
CONS
Uneven blade bevel
Price is on the high side. But the quality is for sure a match for that.
LEATHERMAN Rev Pocket Size Multitool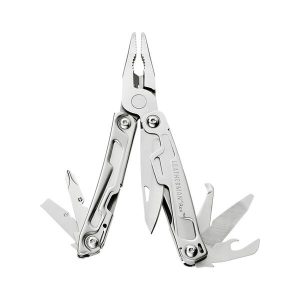 The Leatherman Rev Pocket Size Multitool is one of the most affordable Leatherman tools you'll find. It's also one of the most compact units, with a length of 3.8 inches. It's a true pocket-size multi-tool and weighs just 6.4 ounces. You get a total of 14 tools with this product.
The tools include regular pliers, hard-wire cutters, wire cutters, 420HC knife, can opener, wood & metal file, and a package opener. Other features of the Rev Multitool include the locking blades and replaceable pocket clip. You can attach the multi-tool to your pocket or belt with the pocket clip.
When removed, you can place the multi-tool in a sheath. You get a free nylon sheath from Leatherman when you purchase this product.
This is a good value for the money. It's a good multi-tool for camping if you're on a low budget.
PROS
14 tools
Pocket size
Affordable
Free nylon sheath
Replaceable pocket clip
CONS
Not all the tools can be accessible with one hand.
Pliers are not spring-loaded.
Camping Multitool – Buying Guide
This buying guide will help you pick the best camping multi-tool. Below are some essential criteria to consider when selecting a camping multi-tool:
Number of Tools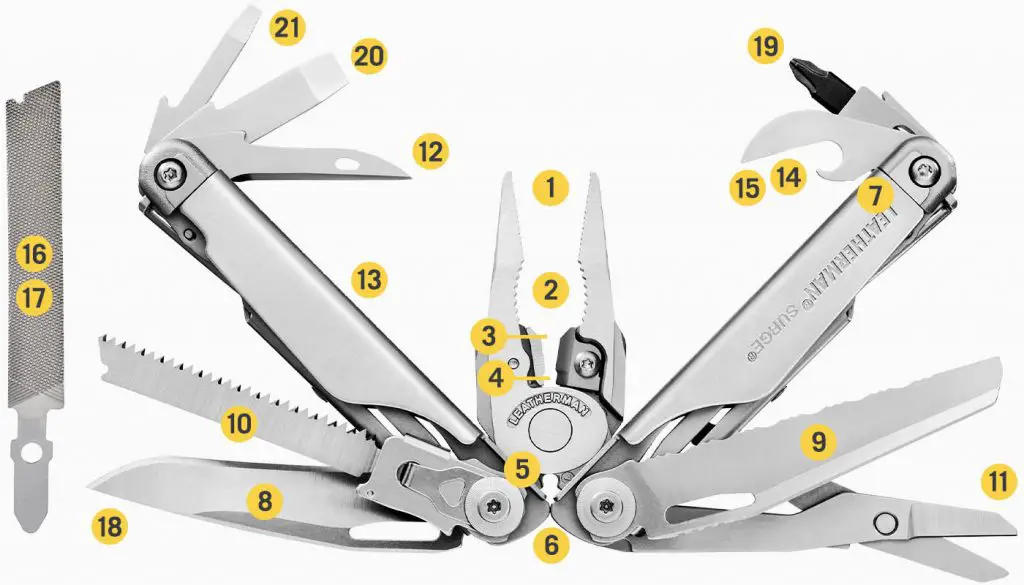 The number of tools that a multi-tool offers is of utmost importance. You want a multifunctional camping tool that will be useful for a variety of tasks while camping. Nevertheless, the tools you'll need depend on what you're going to do while camping.
If you need many tools, you should consider the Leatherman Surge Multitool with 21 tools in 1. Otherwise, you can settle for the Leatherman Rev Pocket Size Multitool or the Leatherman Wingman Multitool.
Material
Most multi-tools are produced with stainless steel. Stainless steel is strong enough to resist harsh environmental conditions. You'll be using these tools outdoors while camping, so stainless steel is ideal.
However, some multi-tools featured even more robust materials. Some Leatherman models like the Leatherman Charge Plus TTi are made with stainless steel and titanium.
Design
Multi-tools are typically designed in a butterfly pattern. All of the tools are enclosed in two casings. These two casings are also the arms when using the plier. The design of a multitool tells you if it'll be easy to use or not.
Campers prefer Leatherman products because of their easy-to-use design. The design usually allows you to use most of the tools without even opening the multi-tool. Also, you can use them conveniently with just one hand.
Size & Weight
Size & weight are crucial elements you need to take into account. A multi-tool can be lightweight but still large. This will make it hard to carry and use such a multi-tool. As mentioned in the introduction, the best multi-tool to opt for should be less than 15 ounces.
With that, you can go for any Leatherman multi-tool on this list; they're all lightweight tools. However, you can go for the Leatherman Rev Pocket Size Multitool if you're particular about getting a lightweight product. The Leatherman Rebar Multitool is also a good option.
Originality
Whether you're purchasing a Leatherman or any other brand, it's essential to make sure you're purchasing an original product. You don't want to waste your money on a fake product. Leatherman is a top brand which is why imitators target their products.
Models like the Charge+ TTi, Crunch, PST, Rebar, Rev, Signal, Wingman, and Wave+ have fake products, as reported by customers. So, it's advisable you buy from authorized retailers on Amazon or straight from the manufacturer to be sure you're getting the real deal. All links on this post lead to Amazon.
Also, physically inspect and verify the Leatherman date codes, pliers stamp, and other identifiers.
Price
Multi-tools are relatively inexpensive. However, the best multi-tool might cost a little more. Premium models often cost anywhere between $100 to $150. For example, the Leatherman Surge Heavy Duty Multitool with 21 tools costs over $120.
You can still get quality multi-tools without spending that much. The cheapest option in the list above is the Leatherman Rev Pocket Size Multitool. If you want more tools for an affordable price, you can go for the Leatherman Rebar Multitool. Both cost less than $70.
Warranty
All Leatherman products feature 25 years warranty which is super cool. I doubt any other manufacturer can match that.
Mistakes To Avoid When Buying A Multi-tool
You don't want to make the following mistakes when buying a multi-tool:
● Going Cheap
You might not want to spend a lot on a multi-tool. However, that doesn't mean you should opt for the cheapest option you find. It's normal for quality tools to be expensive. Therefore, always put quality first before cost. If you get a substandard tool, you'll end up needing to buy another in no time.
● Not knowing the tools
It's clear from the list above that the multi-tools don't come with a fixed number of tools. Some come with just 12, others 14, 19, 21, and so on. You should know all the tools that a multi-tool features before buying one. This becomes even more important if you require specific instruments.
FAQs
Is there a fake Leatherman?
Yes, there are fake Leatherman products. Some of these clones carry the Leatherman branding, while others do not. However, you can easily differentiate an original leatherman from a knockoff.
Leatherman tools are of exceptionally high quality, which makes them difficult to fake. Replicating a Leatherman tool is expensive and complicated. That's why most Leatherman tools are costly as well.
Do you need a multi-tool for camping?
Multi-Tools feature many tools in one, and you need one for your camping trip. In a multi-tool, you get knives, wire cutters, pliers, can openers, and whatnot. You'll find it challenging to carry all these tools individually on your trips. Multi-tools also have a compact and ergonomic advantage. Hence, using a multi-tool is a lot easier.
Are Leatherman tools worth it?
The Leatherman company has been around since 1983. Thousands of customers have purchased and used Leatherman tools all these years. The majority of these customers attest that Leatherman tools are worth it.
Leatherman multi-tools are arguably the most used multi-tools for camping. The durability and versatility of Leatherman multi-tools make them very popular among campers. Furthermore, Leatherman is manufactured in the US, so they are trusted.
Why are Leatherman Multi-Tools so Expensive?
Leatherman multi-tools are expensive because they are quality products. You get the best value with Leatherman, including excellent performance, durability, premium materials, and precision manufacturing. However, you don't always have to break the bank. The list in this article features some very affordable Leatherman multi-tools.
Conclusion
If you are buying a multitool for camping, you can do no wrong with a Leatherman product. They are indisputably the superior brand in the niche. Their toolkits are durable and you get a whopping 25 years warranty for any of their multi-tool you buy. Although they have many multitools on sale we have considered the best for you in the article above. You can go with anyone that meets your interest.